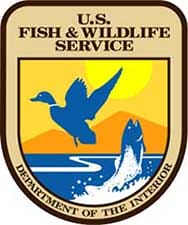 Washington, DC -(Ammoland.com)- U.S. Fish and Wildlife Service Director Dan Ashe today announced the recipients of the 2014 Rachel Carson and Science Leadership awards for scientific excellence.
The awards honor Service employees whose outstanding scientific contributions improve the Service's knowledge and management of fish and wildlife resources.
"Since the establishment of our agency, the Service has been committed to using the best available science to make management and policy decisions," said Ashe. "The award winners reflect that commitment and continue to provide invaluable support to our conservation legacy."
The Science Leadership Award recognizes a Service employee's exemplary contributions to scientific activities that have lasting influence on the management of fish and wildlife resources. This year's winner is Julian Fischer, project leader for the Migratory Bird Management Waterfowl Division in Anchorage, Alaska.
Julian is recognized for his outstanding science leadership in managing a diverse team, engaging in countless partnerships and collaborations, mentoring younger scientists, and demonstrating a selfless commitment to his staff and the long-term mission of his division and the Service. His holistic and long-term perspective prioritizes people and their talents, which results in a team that successfully implements complex missions and contributes invaluable data to the scientific community on a wide variety of avian conservation issues.
The Rachel Carson Award for Scientific Excellence is bestowed on individuals and groups who make key scientific contributions that achieve extraordinary results in fish and wildlife conservation. The awards are given in two categories – individual and group.
The 2014 Rachel Carson Group Award was presented to the Lahontan Cutthroat Trout Broodstock and Lake Reintroduction Team, which includes the Lahontan National Fish Hatchery in Gardnerville, Nevada; the University of Nevada, Reno; and the Pyramid Lake Paiute Tribe. This team is recognized for their efforts to conserve the Lahontan cutthroat trout, the largest trout species on the planet. Their work included a sophisticated mating protocol in the hatchery to maximize genetic diversity of the broodstock in order to preserve the species' unique traits.
The team's impressive work with several partners has successfully reintroduced the species into lake and stream habitats where it once existed prior to extirpation. Lahontan cutthroat trout reproduced naturally in the Tahoe Basin in 2012 for the first time in over 70 years and in the Truckee Basin in 2014 for the first time in 76 years.
The Rachel Carson Individual Award was presented to Nathan Eckert, mussel biologist at Genoa National Fish Hatchery in Genoa, Wisconsin. Nathan is recognized for his creativity and tenacity in researching and implementing new techniques and rearing systems for imperiled freshwater mussels. Nathan's accomplishments include: helping the Genoa facility produce nearly 15 million mussels of 17 species, 4.7 million of which are of four federally listed species; assisting various mitigation efforts involving projects that impact freshwater mussel populations; and providing rare mussel species to partners, such as USGS and many toxicology labs, for work related to effects of pesticides and contaminants on mussel survival.
The awards carry a real benefit for the work of the winners. Each will be honored with $50,000 to be used at their field stations in support of additional scientific work.
For more information about the science awards and the Service's commitment to scientific excellence, visit: www.fws.gov/science/awards.html.
About U.S. Fish and Wildlife Service
The mission of the U.S. Fish and Wildlife Service is working with others to conserve, protect, and enhance fish, wildlife, plants, and their habitats for the continuing benefit of the American people. We are both a leader and trusted partner in fish and wildlife conservation, known for our scientific excellence, stewardship of lands and natural resources, dedicated professionals, and commitment to public service.
For more information on our work and the people who make it happen, visit www.FWS.gov or connect with us through any of these social media channels: Facebook, Twitter, Flickr, YouTube.