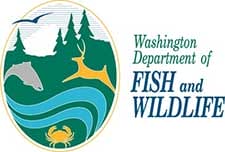 Olympia, WA -(Ammoland.com)- Nine members have been added to the committee that advises the Washington Department of Fish and Wildlife (WDFW) on wolf recovery and management.
Their appointments, for two-year terms that run through 2016, bring the Wolf Advisory Group's membership to 18.
WDFW Director Jim Unsworth said the new members will bring diverse personal and professional backgrounds to the group that makes recommendations to guide the department's implementation of the state's Wolf Conservation and Management Plan.
WDFW formed the group in 2013, with nine members representing the interests of wolf advocates, cattle ranchers, and hunters. Unsworth said the new members bring a wider range of perspectives and, for example, include a science teacher and a member of the state's largest hiking association.
"Wolf recovery has been and will continue to be a very challenging issue, and the advisory group members will provide valuable advice on how to achieve the goals of the wolf plan," said Unsworth.
Dave Ware, the department's wolf policy lead, said more than 50 people applied for the new positions following the department's announcement in October that it was seeking to expand the group. Ware said WDFW placed a priority on selecting people from diverse backgrounds who have the ability to share information about the advisory group's discussions within their own networks of contacts.
Ware said the nine people who served as original members or alternates will continue to serve through 2016. Those members have been very helpful to the department, and their continued presence will lend stability and continuity to the advisory group, he said.
The group's next meeting is planned for March, with details to be announced on the Wolf Advisory Group website:http://wdfw.wa.gov/about/advisory/wag/ .
WDFW Wolf Advisory Group members (new members in boldface)
| | | |
| --- | --- | --- |
| Name | City | Affiliation |
| Bob Aegeter | Bellingham | Sierra Club |
| Shawn Cantrell | Seattle | Defenders of Wildlife |
| Tim Coleman | Republic | Kettle Range Conservation Group |
| Dave Dashiell | Hunters | Cattle Producers of Washington |
| Don Dashiell | Colville | Stevens County Commissioner |
| Tom Davis | Olympia | Washington Farm Bureau |
| Dave Duncan | Ellensburg | Washingtonians for Wildlife Conservation |
| Tom Erskine | Camas | Washington Trails Association |
| Jack Field | Ellensburg | Washington State Cattlemen's Association |
| Diane Gallegos | Tenino | Wolf Haven International |
| Janey Howe | Colville | Science teacher and part-time range rider |
| Molly Linville | Palisades | Independent cattle rancher |
| Nick Martinez | Moxee | Washington State Sheep Producers |
| Dan McKinley | Spangle | Mule Deer Foundation |
| Dan Paul | Seattle | Humane Society of the United States |
| Mark Pidgeon | Bellevue | Hunters Heritage Council |
| Lisa Stone | Shelton | Hunter |
| Paula Swedeen | Olympia | Conservation Northwest |