The Mission First Tactical Surplus Barrel of 400 magazines comes ready to place in store for a tactical look and customer convenience.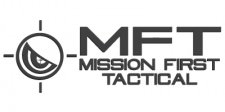 Horsham, PA (April 2015) – Mission First Tactical, LLC (MFT™) a leader in USA-made rifle/carbine accessories is now making it easy for retailers to set up an eye-catching display of their MFT Mags™ with the Surplus Barrel of 400 magazines. The OD green metal cans with Mission First and Team MF'ER logos come filled with the USA-made MFT polymer magazine designed for the AR15/M14 rifle (can also be used with a wide range of non-AR15/M4 platforms).
Retailers will realize easy profit with this attractive MFT Mags™ display supplying customers with one of the most reliable, totally USA-made 30-round magazines on the market.
The low profile, 30-round 5.56mm NATO magazine designed as an enhancement of the standard STANAG design is constructed with a specially developed, reinforced and super tough polyamide from Military Grade Polymer. The magazine's front ribs are textured and the flared floor plate make it easy to extract and handle, especially under stressful conditions. The floor plate also provides drop protection and has a paint pen dot matrix area for easy identification marking and is compatible with tight double and triple magazine pouches. There are two fully functional drain holes to ensure complete draining. The magazine disassembles without any tools with a double floor plate and safety release tabs for safely releasing the spring tension. The long-life stainless steel spring and 4-way anti-tilt follower ensure consistent reliable ammo feeding. The oversized bolt catch notch in the rear of the magazine provides enhanced reliability of the bolt catch operation. Individual mags retail for $14.99. The Surplus Barrel of 400 MFT Mags™ is available to qualified retailers.
Interested retailers can call 267-704-0001. For more information on Mission First Tactical visit www.missionfirsttactical.com
About Mission First Tactical:
Mission First Tactical (MFT) designs and develops select USA Made rifle/carbine accessories specifically for the Military, Law Enforcement and Civilian markets. The MFT team has over 75 years of industry experience in taking concepts to front-line deployment. From the beginning MFT's mission is to develop leading edge products for individual's operating in harm's way. Success for every operator's mission is Mission First Tactical's intent. www.missionfirsttactical.com
Battlelink™ Buttstocks, Engage™ Pistol Grips, React™ Grip Series, Torch™ Laser & Light Mounts, E-Volv™ and MFT Mags™ brands are trademarks of Mission First Tactical, LLC. All company and product names mentioned herein are trademarks or registered trademarks of their respective sources.