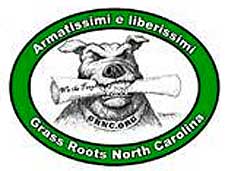 North Carolina –-(Ammoland.com)- April 30 2015 crossover deadline looms, threatening to KILL ALL PRO-GUN BILLS in state legislature…
After soliciting input from members, Grass Roots North Carolina (GRNC) either drafted or provided input to a broad spectrum of pro-gun bills which can expand gun rights in North Carolina. The best of them are described below. The problem is that under legislative rules, if a bill doesn't pass at least one chamber by April 30 2015, it will be D.O.A.
IMPORTANT NOTE: Today's alert deals ONLY with NC HOUSE bills. An alert dealing with NC SENATE bills will be sent tomorrow. We need you to RESPOND TO BOTH ALERTS! In general, we need you to express that all of the bills listed need to pass, whether separately or (more likely) as part of an omnibus gun bill.
THE BEST OF THE GUN BILLS
The bills GRNC has had the biggest hand in drafting or shaping – and which stand a chance of dying for lack of passage before the April 30 "crossover deadline" – are the following:
HOUSE
H 562: "Amend Firearms Laws."
This comprehensive bill would further open up the state fair to concealed handgun permit-holders, remove restrictions from educational properties, permit guns in locked vehicles at places of employment, remove CLEO discretion in signing BATFE paperwork for Title II firearms, authorize hunting with short-barreled rifles, and more.
H. 699: "Gun Rights & Privacy Act."
This bill would create constitutional (permit-less) concealed carry; prevent state and local authorities from doing anything which violates Section 30 of Article I of the North Carolina constitution (our right to keep and bear arms); and creates a Florida-style law which prevents healthcare providers from interrogating patients about gun ownership.
H. 702: "Preemption Affirmation Act."
This bill would provide incentives to cities and counties to obey our statewide firearms preemption law. At present, cities like Chapel Hill and Durham ignore laws allowing concealed carry in parks and greenways. Unfortunately, this bill is not as strong as GRNC would like, so we recommend the House adopt the Senate version of the bill, which is S. 394. Under the Senate version, it would mirror Florida law, which creates civil penalties and a private cause of action against bureaucrats who illegally restrict gun owners.
H. 891: "Concealed Handgun Standardization Act."
This bill would stop sheriffs who arbitrarily and illegally deny concealed handgun applicants over such things as counseling or use of anti-depressants; would specifically prevent them from imposing burdensome requirements not listed in NC statutes such as photos, notarized character references or extra fees; would allow permit applications from LEGAL resident aliens, and would speed up permit applications by requiring sheriffs to issue or deny permits within 90 days. Again, GRNC prefers the Senate version of the bill, S. 641, which also eliminates permit disqualifiers for decades-old minor legal transgressions.
IMMEDIATE ACTION REQUIRED!
CALL & EMAIL SPEAKER TIM MOORE: We need you to do both: Call AND email Speaker Moore at [email protected] AND 919-733-3451. PLEASE BE CIVIL: Moore is a friend of gun owners, but may not yet fully realize the importance of the legislation in question.
CALL & EMAIL RULES CHAIR DAVID LEWIS: Again, do both. Lewis has usually voted on our side, but has been absent from recent gun debates. We need you to reinforce the importance of these bills by contacting him at [email protected] and 919-715-3015. Remember, the powerful Rules chair determines which bills get hearings and which die.
CALL & EMAIL JUDICIARY CHAIR LEO DAUGHTRY: Again, Daughtry has been a friend of gun owners, but needs a reminder that legislation before his committee needs a prompt hearing in order to clear the April 30 deadline. Contact him at [email protected] and 919-733-5605.
CALL & EMAIL *YOUR* NC HOUSE REP: Below is a copy/paste email message you can use. Find your representative at:
http://www.grnc.org/contact_reps.htm
DELIVER THIS MESSAGE
Suggested Subject: "Pass Pro-gun Bills Prior to April 30 Crossover"

Dear Representative _________________:

As a gun rights voter who helped create the Republican supermajority in the North Carolina General Assembly, I am concerned that time is running out for the many excellent gun rights bills which have been introduced in this session. Whether as standalone bills or as part of an omnibus bill, I expect the Republican leaders I have supported to pass the following from the NC House prior to the April 30 crossover deadline:

H 562: "Amend Firearms Laws." This comprehensive bill would further open up the state fair to concealed handgun permit-holders, remove restrictions from educational properties, permit guns in locked vehicles at places of employment, remove CLEO discretion in signing BATFE paperwork for Title II firearms, authorize hunting with short-barreled rifles, and more.

H. 699: "Gun Rights & Privacy Act." This bill would create constitutional (permit-less) concealed carry; prevent state and local authorities from doing anything which violates Section 30 of Article I of the North Carolina constitution (our right to keep and bear arms); and creates a Florida-style law which prevents healthcare providers from interrogating patients about gun ownership.

H. 702: "Preemption Affirmation Act." This bill would provide incentives to cities and counties to obey our statewide firearms preemption law. At present, cities like Chapel Hill and Durham ignore laws allowing concealed carry in parks and greenways. Unfortunately, this bill is not as strong as GRNC would like, so we recommend the House adopt the Senate version of the bill, which is S. 394. Under the Senate version, it would mirror Florida law, which creates civil penalties and a private cause of action against bureaucrats who illegally restrict gun owners.

H. 891: "Concealed Handgun Standardization Act." This bill would stop sheriffs who arbitrarily and illegally deny concealed handgun applicants over such things as counseling or use of anti-depressants; would specifically prevent them from imposing burdensome requirements not listed in NC statutes such as photos, notarized character references or extra fees; would allow permit applications from LEGAL resident aliens, and would speed up permit applications by requiring sheriffs to issue or deny permits within 90 days. Again, GRNC prefers the Senate version of the bill, S. 641, which also eliminates permit disqualifiers for decades-old minor legal transgressions.

Please advise me of your position on these bills. I will be monitoring activity on the bills through Grass Roots North Carolina legislative alerts.

Respectfully,
About: Grass Roots North Carolina is an all-volunteer organization dedicated to preserving the freedoms guaranteed us by the Bill of Rights. Our main focus is the right to keep and bear arms. GRNC was central to drafting and passing North Carolina's concealed handgun law and since that time has continued to push for improvements to gun laws. Visit:www.grnc.org