Below recipes are from Scott Leysath, known as "the Sporting Chef," with a TV show of the same name airing Sundays at 12:30 p.m. on Sportsman Channel.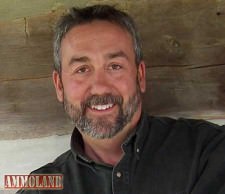 USA – Home openers for baseball are happening across the nation, so why not include some wild game fare on your tailgate grill versus the usual boring hot dog.
Hey, at least with these dogs, you know exactly what is in them.
For all of these recipes, you need a grinder and stuffer, I recommend Weston's Realtree Outfitters #8 Electric Meat Grinder & Sausage Stuffer.
In fact, I know you'll be so happy with this grinder, I'm giving one away on my Facebook page at http://facebook.com/thesportingchef And for the smoked recipes below, my smoker of choice is a Camp Chef 24-inch Smoke Vault.
Now for the recipes…
Alligator Andouille Sausage Dog
OK, so you look in the freezer and realize, "Hey, we're out of alligator!." Fortunately, it's perfectly acceptable to substitute any antlered game, waterfowl or upland game meat for gator. I prefer the tail meat from a young gator. The older animals can be a little "swampy".
Makes about two pounds sausage.
1 1/2 pounds boneless pork shoulder, cut into 1/2-inch chunks
1/2 pound smoked bacon
1 pound alligator tail, cut into 1/2-inch chunks (about 2 cups)
4 garlic cloves, minced
1/4 cup Cajun seasoning (store-bought or make your own)
1 teaspoon paprika
1 teaspoon freshly ground black pepper
1 teaspoon Kosher salt
1/2 teaspoon file powder
1 teaspoon chili powder
1/2 teaspoon cayenne pepper
1/2 teaspoon ground cumin
6-inch sourdough rolls
diced tomato
diced red onion
1/3 cup Creole mustard
1/3 cup mayonnaise
Grind pork, bacon and alligator together and transfer to a large bowl. Mix the ground meat together with all the seasonings. Cover and refrigerate for 12 hours.
Place sausage casing on feeder horn and force mixture into casing. Twist sausages in alternating directions every 6 to 8 inches.
Place sausages in a 225 – 250 degree smoker for 1 1/2 to 2 hours.
Grill sausages and place in sourdough rolls. Combine Creole mustard and mayonnaise and mix well. Top with tomato, onion and Creole mustard and mayonnaise mixture.
Shrimp Hot Dogs
Borrowed from the "El Roots Café" in Mazatlan, Mexico. It's so simple, yet so dang good. Crispy and bacony on the outside and packed with shrimp in the middle. You know you want one.
6 dogs
2 cups shrimp, peeled, deveined and roughly chopped
2 green onions (white and green parts), minced
3 tablespoon soy sauce
6 strips thin-sliced bacon
6 hot dog buns
6 squares plastic wrap
condiments
Combine shrimp, green onions and soy sauce. Divide shrimp mixture into 6 equal portions. For each shrimp hot dog, place a piece on plastic wrap on a work surface. Place a portion of the shrimp mixture in the center and form into a rectangle, about the length of a hot dog. Wrap the plastic wrap around the shrimp mixture, twist both ends tightly to press the mixture into a hot-dog shape and tie off each end. Be careful not to let the shrimp mixture overlap into the plastic wrap. The next step is to freeze it. Once frozen, you will want to be able to remove the plastic wrap easily. Place shrimp dogs in freezer.
Once frozen, remove plastic wrap and stretch bacon snugly around the shrimp mixture. Place on a medium-heat griddle or in a skillet and brown bacon on all sides. Make sure that the cooking surface is not too hot or the bacon will burn before the shrimp is cooked.
Place the shrimp hot dogs in buns and serve with desired condiments.
Weston's Homemade Hot Dogs
Non-hot dog eaters will come around when they hear it is homemade.
5 lb boneless beef short rib or venison
1 cup non fat dry milk
3 tablespoons dry mustard
2 tablespoons powdered dextrose
1.5 tablespoons smoked sweet paprika
1 tablespoon kosher salt
2 teaspoons garlic powder
2 teaspoons ground coriander
1 teaspoon pink salt
.5 teaspoons black pepper
.5 teaspoons white pepper
.5 teaspoons celery seeds
1 cup ice water
Tip: Keep the beef as cold as possible at all times – Keep the grinder head, plates, tray, and sausage stuffer canister in the freezer until you're ready to use them. Put a second meat lug under the one your beef is in, filled with ice.
Find the instructions to this recipe here 
Weston's Brat Burgers

– ok, we had to throw in a burger

Makes six half-pound patties
3 lb pork, cubed
9 tablespoons Weston Bratwurst Sausage Tonic
Ale-Marinated Cabbage
1 head cabbage
1 teaspoon salt
1 tablespoon brown sugar
1/4 teaspoon cayenne
1 tablespoon apple cider vinegar
1/2 cup Samuel Smith Apricot Ale (or ale of your choice)
Mustard Sauce
12 oz condensed milk
3 tablespoons extra hot horseradish mustard
2 tablespoons olive oil
tablespoons apple cider vinegar
1 teaspoon salt
1 red pepper
1 yellow pepper
1 green pepper
1 large Spanish onion
Find the instructions here.
Weston's Smoked Venison Sausage Rolls
Smoked venison sausage bursting with flavor, smothered in homemade spicy honey mustard, served atop a pretzel bun, with smoked apples and pickled red onions… need we say more? This guy's a winner! Make the pickled onions at least a couple of weeks before. The apples, mustard, and sausage can all be made together.
Makes (8) 6″ sausages
Venison Sausage
3 star anise
2 tablespoons black peppercorns
1 tablespoon juniper berries
1 teaspoon caraway seeds
1 teaspoon fennel seeds
½ teaspoon whole cloves
1/8 cup diced red onions
1 head garlic, minced
12 fresh sage leaves, minced
1 cinnamon stick
1 tablespoon kosher salt
3 lbs lean venison, cubed (as cold as possible without being frozen)
¾ lbs fat, cubed (keep frozen until ready to use)
natural hog casings
8 pretzel-style sausage buns
Find the instructions to this recipe here.