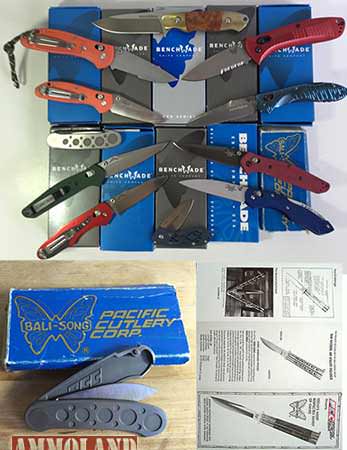 Oregon City, OR –-(Ammoland.com)- Benchmade Knife Company, manufacturer of premium sports cutlery for over 26 years, is pleased to announce Andrew Hoerner as winner of the Benchmade Ultimate Experience.
Hoerner's entry, which included a personal Benchmade story and images of his collection, was selected out of hundreds submissions.
"We felt Mr. Hoerner's story exemplified a true Benchmade fan." says Dave Stainsby, Senior Digital Sales and Marketing Manager of Benchmade Knife Company.

"The candidness of his story really resonated with everyone in the selection process."
Hoerner's story outlines a relationship that spans over thirty years with Benchmade and its predecessor company Pacific Cutlery.
"Mine is not a big story. There are bigger ones. Action. Drama. Lives on the line. Important stuff. Mine is a small story. Actually hundreds of tiny moments, all rolled into a 30+ year relationship…" writes Hoerner.
As the grand prize winner of the Benchmade Ultimate Experience, Hoerner will be flown to Portland, OR and given a personal tour of the Benchmade factory in Oregon City, OR. In addition, he will work closely with Benchmade Special Projects Team in designing an one-of-a-kind custom concept Benchmade to be completed and rewarded at a later date.
For more information about Benchmade Knife Company please visit benchmade.com or if you are attending the 2015 NRA Annual Meetings & Exhibits in Nashville, TN going on April 10th through 12th you can visit Benchmade at booth #2312.