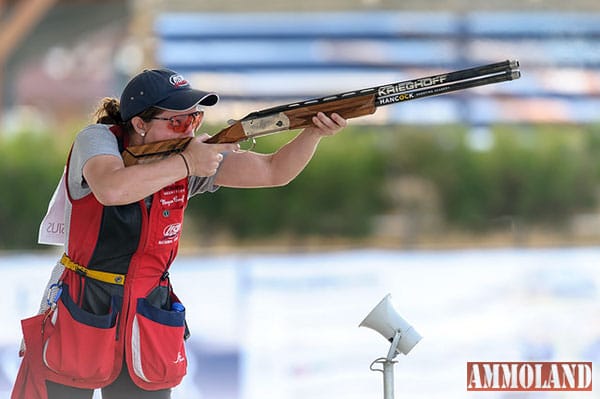 Colorado Springs, CO -(Ammoland.com)- These are busy times for members of the USA Shooting Team with the International Shooting Sport Federation (ISSF) World Cup in Cyprus, the International Shooting Competition Hanover (ISCH), Airgun Selection Match and National Junior Olympic Shooting Championships (NJOSC) all taking place with several top notch performances.
Below, we recap each, starting first with a pair of international bronze medal results.
Craft Scores First Career World Cup Medal with Bronze
Skeet competitor Morgan Craft (Muncy Valley, Pennsylvania) opened the ISSF World Cup in Larnaca, Cyprus, by earning the first World Cup medal of her career, capturing bronze Sunday afternoon.
The 21-year-old Craft shot her way to the podium by withstanding a qualification shoot-off with six other competitors, all of whom were tied with 71 targets following three qualification rounds. She hit 14/16 targets in the semifinal, which once again forced her into a shoot-off for a chance at the bronze-medal match. She beat Russia's Victoria Kholkina, four hits to three to lead her to a matchup with Thai competitor Sutiya Jiewchaloemmit. With just one miss, bronze would be claimed by Craft after her opponent dropped three targets.
Craft adds to the success of the U.S. women's skeet team in World Cup action thus far in 2015. The lowest finish from three World Cups to date is Kim Rhode's (El Monte, California) 22nd-place finish Sunday. Rhode earned gold in Acapulco, Mexico to begin the year and then seventh in Al Ain, UAE. Craft has now finished third, sixth and eighth. Caitlin Connor (Winnfield, Louisiana) was 10th in Larnaca, just one point out of the qualification shoot-off. She was second to Rhode in Acapulco and was fifth in Al Ain.
In Men's Skeet action completed Monday, Frank Thompson (Alliance, Nebraska) finished with a fifth-round score of 23 which would give him a 121 and leave him one shy of the shoot-off that took place to decide the six finalists. Thompson finished 15th overall. Dustin Perry (Lovelady, Texas) finished 24th with a 120 while Vincent Hancock (Eatonton, Georgia) was 44th with a 117.
The World Cup in Larnaca continues Wednesday with Men's Double Trap in action. For full results, click here.
Bronze for Paralympic Hopeful Tagliapietra in Hanover
Mike Tagliapietra (Fond du Lac, Wisconsin) earned a bronze medal at ISCH Monday against 35 other competitors in P3 25m Sport Pistol. Tagliapietra would shoot the second-best qualification score of 569 but would have to settle for bronze behind two Chinese athletes. The medal comes in the same event that Tagliapietra earned a Paralympic quota during the 2014 International Paralympic Committee (IPC) World Championships when he finished eighth.
Tagliapietra is one five U.S. athletes competing along with McKenna Dahl (Arlington, Washington), Len Esparza (Cupertino, California), John Joss (USAMU/Corsicana, Texas) and Shaun Tichenor (USAMU/Brainerd, Minnesota). Joss just missed making finals in the R6 Mixed Prone Rifle event Sunday, finishing 2.7 points out in tricky wind conditions.
For ISCH results, click here.
Six Airgun Athletes Solidify World Cup Spots in Anniston
Twelve airgun athletes solidified spots for World Cup USA and World Cup Munich (Germany) during the Airgun Selection Match held this past weekend at the Civilian Marksmanship Program (CMP) ranges in Anniston, Alabama.
One of the highlights included the new National Record score (419.8) shot by Amy Sowash (Richmond, Kentucky) in Sunday's qualification match in Women's Air Rifle on her way to a third-place overall finish. She bettered a score that had lasted all of one day after 17-year-old Rhiann Travis (Weatherford, Texas) got the scoring started with a 419.2 in Saturday qualifying. Sowash is now World Cup eligible in two events having already earned a spot in Three-Position Rifle during a smallbore (.22 caliber) Selection Match to begin the month. Travis was the runner-up to Elizabeth Marsh (Searcy, Arkansas) during the National Junior Olympic Shooting Championships earlier in the week. The Women's Air Rifle event was won by Sarah Beard (Danville, Indiana) who again showed the greatest consistency throughout the match and added third and first-place finals finishes to her 415.6 and 415.8 qualification scores. Second place was earned by Air Force senior competitor Meredeith Carpentier (Waukegan, Illinois).
Connor Davis (Shelbyville, Kentucky) stood atop the podium as the Selection Match victor backed by the top qualifying score (625.3) and two finals victories. George Norton (USAMU/Salina, Kansas) was second followed by Bryant Wallizer (Little Orleans, Maryland), who finished .5 points ahead of Ryan Anderson (Wasilla, Alaska) for third. Norton is now World Cup eligible in both Air and Three-Position rifle events. Notable was the high qualification score of 626.9 put forth by Jacksonville State University sophomore Brandon Muske (Brenham, Texas).
In two Selection Matches, Will Brown (Twin Falls, Idaho) has shown he's now at the head of the class among American men in the Olympic pistol disciplines. Having already won Free Pistol selection by 33 points, he won Air Pistol by 18 points after shooting the two best qualifying scores and earning wins in both match finals. Olympian Nick Mowrer (Butte, Montana) also double-qualified with another second-place finish after a similar result in Free Pistol. Third place was earned by Jay Shi (Phoenix, Arizona) on the result of more center-10s (38-32) after he tied with double Junior World Champion Alex Chichkov (Temple Terrace, Florida) in aggregate score.
Courtney Anthony (USAMU/Lexington, Nebraska) was the overall winner in Women's Air Pistol, backed by top qualifying mark of 580 shot on Sunday along with first and third place finals finishes. Sandra Uptagrafft (Phenix City, Alabama) was second followed by Alana Townsend (Kalispell, Montana).
These athletes will now have the opportunity to represent USA Shooting at the upcoming World Cup USA in Fort Benning, Georgia (May 11-19) and the World Cup in Munich, Germany (May 26-June 2). For full Airgun Selection Match results, click here.
National Junior Olympics Marches Along
NJOSC's have rolled into the second week with Pistol competition set to conclude Tuesday. Irina Andrianova (Schaumburg, Illinois) won Women's Sport Pistol while Jack Leverett (Bainbridge, Georgia) is the Men's Sport Pistol champion while also earning his USA Shooting Team jacket in the process. Highlights also included a world-class Final by Brian Kim (Los Angeles, California) as well as Carson Saabye (Larkspur, Colorado), the youngest competitor in the field, finishing fourth overall in the women's competition.
Lydia Paterson (Kansas City, Kansas) shot a 388 today in Women's Air Pistol to set a National Junior Record that has stood since 1995 when Rebecca Snyder shot a 386. Snyder also holds the National mark as well at 390, set in 2006. Paterson's score is the best Women's Air Pistol score shot by American since Sandra Uptagrafft's 387 at the 2012 USA Shooting National Championships.
A full release of the Pistol competition will be issued Tuesday following the conclusion of Air Pistol. For a full recap of Women's Air Rifle, click here.
About ELEY
ELEY is a Proud Sponsor of the USA Shooting Rifle and Pistol Teams: ELEY Limited, manufacturer of the world's most consistently accurate rimfire ammunition, has been the Official Sponsor and Official Supplier of .22 rimfire ammunition of the USA Shooting rifle and pistol teams since 2000.
For more information on ELEY and their products, please visit eley.co.uk.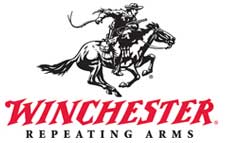 About Winchester Ammunition
Winchester Ammunition is a Proud Sponsor of the USA Shooting Shotgun Team: Winchester Ammunition has been the exclusive ammunition sponsor and supplier of the USA Shooting Shotgun Team since 1999. Members of the past two shotgun teams brought home a combined six medals from London and Beijing using Winchester AA International Target loads. Winchester is an industry leader in advancing and supporting conservation, hunter education and our country's proud shooting sports heritage.
For more information about Winchester and its complete line of products, visit www.Winchester.com.