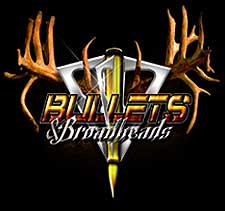 USA (Ammoland.Com) – Bullets & Broadheads TV, featuring Michael and Sonia Hendrick, is proud to announce a new partnership with American Technologies Network Corp. (ATN), innovators of advanced night vision, thermal imaging and digital SMART HD optics for hunters, outdoor enthusiasts, military and law enforcement. Bullets & Broadheads keeps family values going strong with every stalk and chase near their Texas home. Tune in Sunday nights at 7 p.m. ET exclusively on Sportsman Channel.
Learn more at http://bulletsnbroadheads.com
"With the devastating hog problem in Texas, the thermal and night vision optics was a no brainer for the Hendricks team to be a part of this growing industry," said Michael Hendricks, host of Bullets & Broadheads TV.  "ATN's new X-Sight HD Day/Night Scope and Bino X HD Day/Night Binocular make it an affordable option to get your feet wet with night vision options for the every day hunter.  Not only are these products great for hunters, but also the Public Safety sector as well.  It adds an irreplaceable tool to their arsenal to help fight crime and assist in rescue scenarios.  We couldn't be more excited about the opportunity to showcase their products to our viewers, but also be a distributor at Hendricks, LLC. "
This season's show will see the Hendricks go after bowhunting big whitetails in central Texas to chasing "speed goats" aka pronghorn antelope. Michael, Sonia and their two children, Michael J. and McKenzie, get in on all the opportunities hunting in Texas offers. The crew evens travel to British Columbia to chase big bruins.
"American Technologies Network is proud to welcome Michael & Sonia Hendrick of Bullets and Broadheads to the ATN family as a distributor and show partner," said Chip Fong, Director of Marketing for ATN. "We look forward to a successful 2015-16 with this awesome brand."
New sponsors of Bullets & Broadheads for 2015 include: Cabela's, ATN, Henry Repeating Arms, Road Armor, Ultimate Wild, Graffix Express, Tactacam and Anilogics Outdoors. Returning sponsors are: Badlands, Crossbreed Holsters, Hornady Ammo, Caldwall Shooting Supplies, Birchwood Casey and Lumenok.
Learn more about Bullets & Broadheads at http://www.bulletsnbroadheads.com and on Facebook at https://www.facebook.com/pages/Bullets-Broadheads/107777472594725?ref=hl
For more information on American Technologies Network Corp, visit www.atncorp.com. Visit ATN on Facebook to stay up-to-date on new products, images and promotions. Subscribe to ATN's YouTube channel to stay up-to-date with the latest videos and tutorials. 
About Bullets & Broadheads
Big country, big whitetails, big hearts and big family ties – Bullets & Broadheads is a true grit, real story, Texas country outdoor show. For generations, the Hendrick family grew up harvesting trophy wildlife from the far stretches of Texas underbrush. Today, Michael, Sonia, Michael J., and Mckenzie share those traditions in search of their next monster whitetail. Texas is big country, where the hunts are wild, the people are a dose of southern comfort and family blood comes first. The Hendricks bring Texas living, community and conservative hunting to viewers across the nation. Learn more at http://bulletsnbroadheads.com