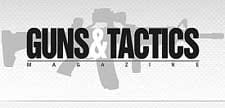 Las Vegas, NV –-(Ammoland.com)- The highly acclaimed and now largely unavailable Caracal pistol is making it's way back to the USA.
According to a recent Facebook post from Jeff Spalding, Manager at Caracal USA;
"Please understand that Caracal International has every intention to support the US Market with quality pistols, rifles, and carbines in the near future. There are processes underway now that will allow us to do just that in a controlled, streamlined, and functional way."

He went on to say "In order to accomplish this, we are in the process of establishing a stand-alone Caracal USA operation, which will be dedicated to the United States Commercial Market."
So far there is no word on how soon new product will be available to consumers in the US market, but we're waiting impatiently for any new announcements.
Guns & Tactics met with Caracal during the 2015 SHOT Show. We're continually impressed with Caracal pistols, but also the CS308 and the CC10, too. You can see all the new Caracal photos here: https://www.gunsandtactics.com/first-photos-new-caracal-pistols
About Guns & Tactics Video:
Guns & Tactics Magazine is a website destination featuring photos, videos and articles about all things guns and tactics. We're an online magazine experience for the gun culture. Veteran Owned and Second Amendment Supporters. www.gunsandtactics.com