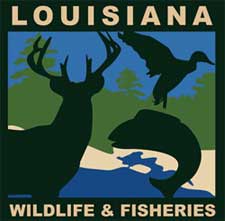 Louisiana -(Ammoland.com)-  Louisiana Wildlife and Fisheries Commission members welcomed Chad J. Courville at their monthly meeting in Baton Rouge.
Governor Bobby Jindal announced Courville's appointment to the Commission on March 20. He will serve as an at-large member through March 2021, replacing Ann Taylor, whose term ended in December.
Commenting on the opportunity to serve Courville said, "I appreciate Governor Jindal's confidence in me and my ability to serve on the Commission. It is a great honor to serve the people of the State of Louisiana, and with my fellow Commissioners, as we strive to manage fish and wildlife populations within Louisiana's vast habitats.  I have been very blessed to have parents who exposed me to Louisiana's outdoors, and I look forward to my time with fellow Commissioners to ensure that my children, and future generations, have that same opportunity."
Courville, a lifelong Louisiana resident, resides in Lafayette and is employed as the land manager for Miami Corporation. He is currently chairman of the Louisiana Alligator Advisory Council
and a member of the National Wild Turkey Federation, Ducks Unlimited, the Coastal Conservation Association, and the Louisiana Association of Professional Biologists.
Courville
received his Bachelor of Science degree in Environmental and Sustainable Resources from the University of Southwestern Louisiana (now ULL).  He and wife Kylee have two children.