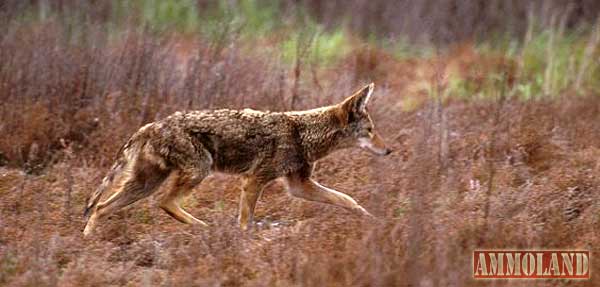 Delaware -(Ammoland.com)-  The Delaware Division of Fish & Wildlife reported that two coyotes were harvested during the 2014-'15 coyote hunting and trapping seasons, both southeast of Milford in Sussex County.
One was taken Sept. 26, 2014 over concerns for the safety of livestock and pets, and the other was harvested last Nov. 11 by a deer hunter using a crossbow.
As adopted last year, Delaware's annual coyote hunting and trapping seasons run Sept. 1 through Feb. 28 (or 29) for hunting and Dec. 1 through March 10 for trapping. All coyotes harvested by hunting or trapping must be reported to the Division of Fish & Wildlife within one business day of harvest to provide data on coyote abundance and distribution in the state that will help guide DNREC's scientific management of the coyote population.
Coyotes that threaten human safety, livestock or pets, can be harvested by landowners year-round, as authorized by a DNREC Secretary's Order, but must likewise be reported. In 2014 and 2015, no coyotes have been reported under this Order to date.
"Having only two harvested coyotes reported during the new coyote hunting and trapping seasons was a bit of a surprise," said David Saveikis, director of the Division of Fish & Wildlife. "It is unclear if these two coyotes taken are indicative of the coyote population size, or a lack of awareness of the harvest reporting requirement. Obviously, the required harvest reporting is an important tool in helping us scientifically estimate and manage the coyote population."
The coyote is a non-native species that has recently expanded its natural range to Delaware. The state's coyote hunting and trapping regulations are based on modern wildlife management science for keeping the coyote population at a biologically and social acceptable level. Coyotes, which are scattered throughout the state, can have impacts on native wildlife species and domestic animals, with both positive and negative impacts on native wildlife possible.
With proper management, coyotes are not expected to have an unacceptable impact on Delaware's deer population, due to the successful reproductive biology of Delaware's abundant deer population. Coyotes add biological diversity and may further provide ecological balance to the state's wildlife populations by suppressing overabundant predators such as red fox and raccoons, thereby indirectly benefiting ground-nesting birds such as wild turkey by displacing these predators.
For more information on coyote hunting and trapping in Delaware, click on 2014-2015 Delaware Hunting and Trapping Guide, and see pages 34-35. The guide also is available in printed form at DNREC's Dover licensing desk in the Richardson & Robbins Building, 89 Kings Highway, Dover, and from license agents throughout the state.