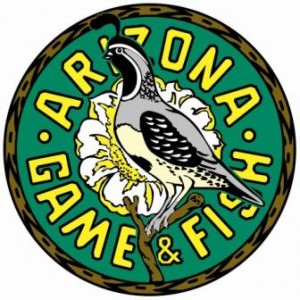 PHOENIX, AZ – -(Ammoland.com)- While the official day for Earth Day celebrations is Wednesday, April 22 2015, one state agency works every day of the year to improve sustainability for wildlife and habitat.
The Arizona Game and Fish Department (AZGFD), which has trust responsibility for more than 800 wildlife species, is actively involved in making Arizona and the world a better place.
AZGFD wildlife biologists are at work in all corners of the state to improve wildlife habitat, reintroduce threatened and endangered species, provide life-giving water for wildlife and maintain connectivity corridors for species that migrate. According to Nongame Wildlife Branch Chief Mike Rabe, the agency plays an active role in projects to conserve and protect many different wildlife species.
"On Earth Day it's important to remember that without the dedication of the Game and Fish Department and our conservation partners, Arizona would be a very different landscape," said Rabe. "Our biologists, researchers and wildlife managers are proud of our efforts to restore species such as black-footed ferrets, Apache trout, Sonoran pronghorn, golden eagles, Chiricahua leopard frogs, Mexican wolves and many other species. All these species are important to the sustainability of our environment."
AZGFD development crews also provide needed water for wildlife in areas of the state where natural water is scarce. Human development often separates wildlife from their traditional water sources, so the department maintains more than 1,000 water catchments so wildlife can thrive in remote areas.
"Building water catchments helps the sustainability of game herds, but it also provides water for smaller mammals, birds and virtually all manner of wildlife," said AZGFD Development Branch Chief Mark Weise. "Because of these catchments, the stress and strain of finding water is less of a problem for Arizona wildlife."
Another way the Game and Fish Department helps the environment is by creating opportunities to fish in Arizona without traveling long distances. The Community Fishing Program stocks fish in 36 community waters in cities and towns around the state, providing great fishing close to home for Arizona anglers.
AZGFD is also deeply involved in the fight against invasive species finding their way into Arizona. Whether it's quagga mussels and other aquatic invasive species in our waterways or noxious weeds and non-native vegetation choking our grasslands, the department works with conservation partners every day to restore native species and remove offending invaders.
By assisting at clean-up events on public lands, protecting nesting eagles and condors, or leading efforts to reduce and repair damages to habitat, the Department demonstrates its commitment to the long-term sustainability of Arizona's precious wildlife. Being able to enjoy the variety and diversity of Arizona's wildlife species is a great way to celebrate Earth Day… every day of the year.
Did you know?
The Arizona Game and Fish Department receives NO Arizona general fund tax dollars? We hold the state's wildlife in trust for the public without a dime from Arizona's general fund taxpayers. https://azgfdportal.az.gov/agency/funds
The Arizona Game and Fish Department prohibits discrimination on the basis of race, color, sex, national origin, age, or disability in its programs and activities. If anyone believes that they have been discriminated against in any of the AGFD's programs or activities, including employment practices, they may file a complaint with the Deputy Director, 5000 W. Carefree Highway, Phoenix, AZ 85086-5000, (602) 942-3000, or with the Fish and Wildlife Service, 4040 N. Fairfax Dr. Ste. 130, Arlington, VA 22203. Persons with a disability may request a reasonable accommodation or this document in an alternative format by contacting the Deputy Director as listed above.