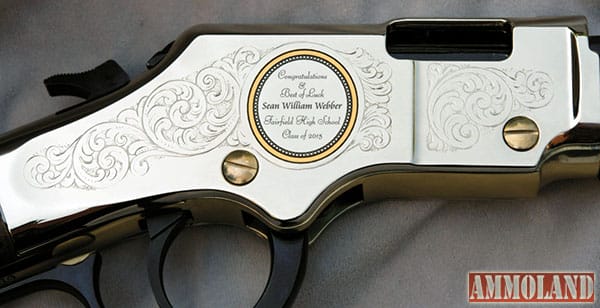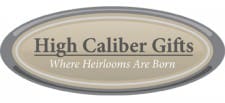 Aiken, SC -(Ammoland.com)- Few occasions in life bring as much significance, celebration and optimism as a high school or college graduation—especially the graduation of a child or grandchild.
Traditional graduation gifts of cash, watches or pen and pencil sets are all very nice– but they are usually soon forgotten. The gift of an engraved firearm is also a tradition in some families and instead of being soon forgotten becomes a family heirloom passed down through generations.
"Imagine if you had a rifle recognizing your Mom or Dad's graduation from High School in 1965–or your Grandfather's graduation from College in 1945," suggests Bob Delfay, President of High Caliber Gifts, which creates one-of-a-kind engraved firearms for a variety of special occasions. "Now is the time to consider such a family heirloom so your children and their children will have these special rifles and special memories to pass down for generations," Delfay suggests.
High Caliber Gifts creates engraved firearms for graduation gifts with appropriately engraved receivers that can include the graduate's name, school name, date and personalized inscription. In addition, these special rifles can be created with personalized serial numbers recognizing the school and date, such as JFKHIGH2015 or BHS2015.
The High Caliber Gifts rifles are also available with inscribed brass or nickel-plated ovals inlayed into the butt stock. These traditional ovals typically include the recipient's name, reference to the occasion and date.
Currently, all engraved firearms are the popular Henry Golden Boy, Silver Boy and Big Boy rifles in a variety of calibers. Rifles featuring 24-carat gold engraving on both sides of receiver are available at approximately $750 for a .22 Henry Golden Boy or Silver Boy and slightly more for .22 magnum or .17HMR. Rifles with engraved oval inlayed in stock are about $650.00. Henry Big Boy models in .357, .44 magnum or .45 Colt are also available.
For additional information visit www.highcalibergifts.com, E-mail [email protected] or call 803 641 1030.
About High Caliber Gifts
High Caliber Gifts was established in 2010 by Bob and Kay Delfay. Bob is a 40-year veteran of the shooting sports industry including 16 years as CEO of the National Shooting Sports Foundation and Chairman of the SHOT Show Committee. Kay is semi-retired following a successful career in graphic arts and customer service. The goal of High Caliber Gifts is to help our clients create family heirlooms and one-of-a-kind presentation rifles for milestone birthdays, graduations, Christmas and for awards for special service including anniversaries, retirements, etc.
For more information, please visit www.HighCaliberGifts.com