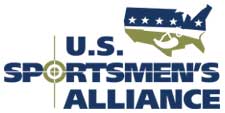 Columbus, OH -(Ammoland.com)- Iowa Gov. Terry Branstad signed into law SF 392, creating an apprentice hunting license for adults and making Iowa the 36th state to enact Families Afield legislation.
The measure was sponsored by the Senate Committee on Natural Resources and Environment under the leadership of Chairman Dick L. Dearden (D-Des Moines).
"It's exciting to see the continued growth and acceptance of Families Afield across the country," said U.S. Sportsmen's Alliance President and CEO, Nick Pinizzotto. "Apprentice hunting recruits new hunters in a safe and exciting manner, and we couldn't be more proud of the program."
The measure, SF 392, allows a first-time hunter to try hunting under the watchful eye of an experienced mentor, prior to completing a hunter education course. This approach has been adopted across the country through the Families Afield program. Families Afield is a collaborative effort of the U.S. Sportsmen's Alliance, the National Shooting Sports Foundation and the www.nwtf.org/. Along with the support of the National Rifle Association and the Congressional Sportsmen's Foundation, Families Afield has resulted in more than 1.4 million new hunters since 2006.
"I want to thank Senator Dearden for his leadership on this important bill," said Evan Heusinkveld, USSA's vice president of government affairs. "This bill will allow new hunters of any age to experience hunting with an experienced mentor. Families Afield continues to be the preeminent hunter-recruitment program available today."
SF 392 had unanimous support among legislators and within the sportsmen's community. In addition to the Families Afield coalition, the Iowa Conservation Alliance also gave the measure their support.
The only group to oppose the pro-hunting measure was the Iowa Sierra Club.
About the U.S. Sportsmen's Alliance
The U.S. Sportsmen's Alliance (USSA) is a 501(c)4 organization and provides direct lobbying and grassroots coalition support to protect and advance the rights of hunters, trappers, anglers and scientific wildlife management professionals. The USSA is the only organization exclusively devoted to combating the attacks made on America's sportsman traditions by anti-hunting and animal rights extremists. This is accomplished through coalition building, ballot issue campaigning and legislative and government relations.
Stay connected to USSA: Online, Facebook and Twitter.