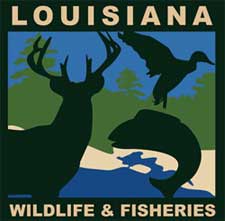 Louisiana  -(Ammoland.com)- The Louisiana Wildlife and Fisheries Commission (LWFC) received a commemorative plaque at their April 2 meeting honoring 50 years of support for waterfowl breeding ground habitat conservation.
The recognition came from Ducks Unlimited at the North American Wildlife and Natural Resource Conference for financial support provided through the Association of Fish and Wildlife Agencies' State Contributions to Canada Program.  Louisiana, along with Ohio and South Carolina received this distinction for participating in the program since 1965.
The Commission directs statutorily-dedicated state funds through the program to enhance and protect breeding waterfowl habitat in Canada, where many of Louisiana's migrating and wintering ducks are produced. Previous recognition for this support was received in 2013 when contributions reached over $10 million toward this effort since inception.  Louisiana is one of only three states that have provided funding at this level. California and Illinois are the others.
The money directed by the Commission is matched by Ducks Unlimited and matched again by North American Wetland Conservation Act funding before it goes toward land purchase, conservation easements, wetland and grassland habitat restoration, and habitat management in the Canadian prairies to benefit nesting ducks. Unusually wet conditions along with this significant habitat investment have produced some of the highest duck populations on record.
For more information, contact Larry Reynolds at 225-765-0456 or Jimmy Anthony at 225-765-2806.