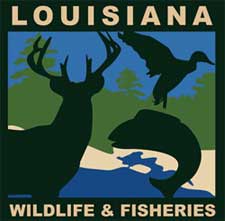 Louisiana  -(Ammoland.com)- Louisiana Department of Wildlife and Fisheries Enforcement Division agents made three drug related cases from April 2 to 4 in Jefferson Parish.
On April 2, agents observed a group of three men on Elmer's Island Refuge with glass bottles where they are prohibited.  Agents found Dylan W. Melancon, 18, and Brett M. Rodrigue, 19, both of Golden Meadow, in possession of marijuana and drug paraphernalia.  Agents also discovered Jhy M. Allison, 21, of Golden Meadow in illegal possession of drug paraphernalia and also cited him for having glass bottles.
On April 3, agents observed a vehicle on Hwy. 1 in Grand Isle swerve several times over the center line.  During the traffic stop, agents found the driver, Jeremy K. Buckner, 36, of Leesville, in possession of 24 packs of synthetic marijuana.  He was charged with possession of marijuana with intent to distribute. The passenger, Michael L. Parrish, 39, of Leesville, was found to have an open alcoholic beverage.
On April 4, agents observed a man fishing on Elmer's Island Refuge.  Agents made contact with Andrew L. Smith, 28, of Avondale, and found him in illegal possession of marijuana.  Agents booked Smith into the Jefferson Parish Jail.
Illegal possession of marijuana with the intent to distribute is a felony and brings a 10 to 50 year jail sentence and up to $50,000 in fines.  Possession of marijuana and drug paraphernalia each carries up to a $500 fine and six months in jail.  Possession of an open alcoholic beverage in a motor vehicle carries a fine up to $100.  Having glass bottles on the Elmer's Island Refuge brings a $100 to $350 fine and up to 60 days in jail.
Agents involved in the cases are Senior Agent Dale Wheat and Agent Lucas Hidalgo.