MagnaReady's stress free dress shirts eliminate frustrations in dangerous times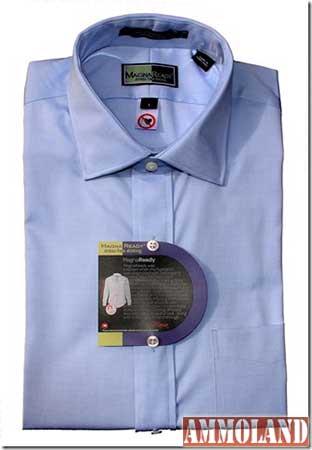 Raleigh, NC -(Ammoland.com)- In the heat of the moment, undercover policemen and high-level security guards are constantly thinking on their feet as they protect and serve.
Dangerous situations can arise at the drop of a hat and in times like these it is crucial to be able to access and handle the situation. Instead of fussing with buttons to get to their weapon, MagnaReady has designed shirts that allow individuals the ability to easily come in contact with their concealed weapon.
MagnaReady uses magnetic buttons that keep their shirts closed but are easily and quickly opened to get to a weapon that is being concealed. Conceptualized in a moment of necessity when her husband began to have trouble buttoning his shirts due to Parkinson's, MagnaReady is the latest creation from former children's clothing designer, Maura Horton. MagnaReady is a patent-pending line of high-quality dress shirts.
Hidden inside the placket of a MagnaReady shirt are powerful magnets that link together for a secure closure. Decorative buttons grace the exterior of MagnaReady shirts for a crisp and professional appearance without the hassle of manipulating tiny buttons into buttonholes.
"When my husband was first diagnosed with Parkinson's, the news was astonishing, and we thought that it would take some time for the disease to take a toll. He was in good physical shape and worked out for hours every day," said MagnaReady CEO Maura Horton. "But, when he came home from being on the road with the college football team he coached and told me he was unable to button his dress shirt without help, I knew I had to use my background in the fashion industry to find a solution for him. After several rounds of development the MagnaReady Stress-Free Shirting solution was born. I am incredibly grateful that I was able to create a shirt that not only gives my husband his independence back, but that can change the lives of millions of people. MagnaReady allows people with limited mobility to regain a skill most of us take for granted every day, the ability to simply get dressed in the morning."
MagnaReady dress shirts are wrinkle-free and stain resistant with barrel cuffs and a spread collar. MagnaReady dress shirts are currently available in men's sizes S-XXL in white and chambray. A line for women is in development.
The MSRP for the MagnaReady shirt is $64.95 or two shirts for $119.00 with free shipping. For more information visit: www.magnaready.com.
About MagnaReady
Necessity was the mother of invention for Maura Horton when she came up with the idea for MagnaReady. Maura was inspired when her husband, a college football coach, had to rely on a player to help him after a game because his Parkinson's prevented him from buttoning his shirt. Determined to help her husband remain independent, Maura came up with the idea of a magnetically infused shirt he could easily dress in without needing finger dexterity. MagnaReady is the first fashionable, magnetic closure dress shirt for people with limited mobility.
For more information visit www.magnaready.com.