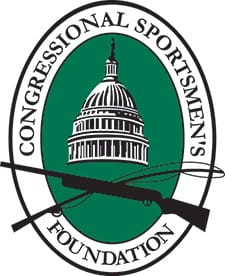 Washington, DC -(Ammoland.com)- Legislation to expand seven-day hunting opportunities in North Carolina was recently filed in the state by members of the North Carolina Legislative Sportsmen's Caucus.
The Outdoor Heritage Act (House Bill 640), filed by Caucus member and House Agriculture Co-Chairman Representative Jimmy Dixon on April 13, is a legislative package designed to protect and promote the Tar Heel State's proud outdoor heritage for future generations. Included in the package is language that would allow hunting with firearms on Sundays on private property excluding waterfowl hunting, using hounds for deer hunting, and hunting within 300 yards of a place of worship.
It would additionally allow for the Wildlife Resources Commission to adopt rules regarding hunting on Sundays and the manner of take effective July 1, 2018.
Congressional Sportsmen's Foundation (CSF) President Jeff Crane stated, "This legislation benefits North Carolina's outdoor heritage and the state's economy in major ways. It is essential for ensuring the state's outdoor heritage and for protecting the recreational opportunities enjoyed by the current and future generations of sportsmen and women."

"I am pleased with the broad support of this bill from over 24 stakeholder groups who have been actively involved in helping to develop House Bill 640. I believe this is the most significant outdoor heritage legislation ever considered in North Carolina," said Rep. Dixon. "I consider the crown jewel in this bill to be the proposed Trust [North Carolina Outdoor Heritage Trust Fund for Youth Outdoor Heritage Promotion] for promoting outdoor heritage activities to youth 16 and under."

Sportsmen's Caucus Co-Chair Senator Buck Newton stated, "The North Carolina Legislative Sportsmen's Caucus has long been pushing to expand access and opportunity for sportsmen and women in North Carolina. The overall efforts to expand opportunity for our youth and hardworking North Carolinians is meant to protect our rich hunting heritage. Currently, spending by hunters in North Carolina exceeds $650 million, which supports over 9,300 jobs; it is estimated that expanding seven-day hunting would contribute an additional $311 million in total economic output, adding 3,600 jobs with over $94 million in wages."
Senator Newton and Caucus member Senator Bill Rabon filed Senate Bill 658 on March 26 that would also allow for seven-day hunting with certain restrictions. The legislation would additionally allow for the North Carolina Wildlife Resources Commission to adopt rules on Sunday hunting effective July 1, 2016.
North Carolina is one of only 11 states that restrict seven-day hunting. Members of the North Carolina Sportsmen's Caucus Advisory Council, in-state conservation partners, and local stakeholders have diligently led the grassroots efforts the past several months to allow seven-day hunting opportunities.
House Bill 640 will be heard in the House Wildlife Resources Committee on Wednesday, April 15 at 2:00 PM. Please contact your state legislators to show support for House Bill 640 and Senate Bill 658.
About Congressional Sportsmen's Foundation (CSF)
Since 1989 CSF has maintained a singleness of purpose that has guided the organization to become the most respected and trusted sportsmen's organization in the political arena. CSF's mission is to work with Congress, governors, and state legislatures to protect and advance hunting, angling, recreational shooting and trapping. The unique and collective force of the Congressional Sportsmen's Caucus (CSC), the Governors Sportsmen's Caucus (GSC) and the National Assembly of Sportsmen's Caucuses (NASC), working closely with CSF, and with the support of major hunting, angling, recreational shooting and trapping organizations, serves as an unprecedented network of pro-sportsmen elected officials that advance the interests of America's hunters and anglers.
For more information, please visit www.sportsmenslink.org.