Orchid Advisors and NSSF Announce Platinum Sponsor Epicor and ATF Program Sessions at 2015 Firearms Industry Compliance Conference.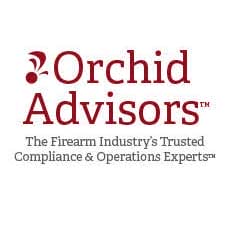 Hartford, CT, APRIL 7, 2015 — Orchid Advisors, the only management consultancy dedicated to the firearms industry, and NSSF, the trade association for the firearms and ammunition industry announces keynote speakers and top sponsors for its 2015 Firearms Compliance Conference to be held on May 11-13, 2015 in Orlando, Florida.
More than 30 speakers will hail from major organizations such as Remington Outdoor Company, Smith & Wesson, Sports Authority, Dunham's Sports, NSSF, Orchid Advisors, and SAAMI.
The panel will also include over ten leaders from the Bureau of Alcohol, Tobacco, Firearms and Explosives (ATF), including, but not limited to:
Marvin Richardson, Assistant Director
Curtis Gilbert, Deputy Assistant Director
Andy Graham, Deputy Assistant Director
Michael Fronczak, Chief, Firearms & Explosives Industry Division
John Badowski, Firearms Industry Technical Advisor
Alphonso Hughes, Chief, Firearms & Explosives Services Division
Earl Griffith, Chief, Firearms & Ammunition Technology Division
Aaron Gerber, Director of Industry Operations, Tampa Field Division
Keynote speakers will include Jon Rydberg, Chief Executive Officer of Orchid Advisors; Larry Keane, Senior Vice President and General Counsel of the National Shooting Sports Foundation; Marvin Richardson, Assistant Director of the ATF; and Mark Hatch, CEO of mBlast.
"We are very pleased to announce our top conference sponsors," says Jon Rydberg, CEO of Orchid. The investment in this conference is a testament to their focus on firearms industry compliance and business performance."
Platinum Sponsor – Epicor
Epicor Software Corporation is a global leader delivering inspired business software solutions to the manufacturing, distribution, retail and services industries. With over 40 years of experience serving small, midmarket and larger enterprises, Epicor has more than 20,000 customers in over 150 countries. With a history of innovation, industry expertise and passion for excellence, Epicor provides the single point of accountability that local, regional and global businesses demand. For more information, visit www.epicor.com.
Silver Sponsor – Smith & Wesson
Smith & Wesson Holding Corporation (SWHC) is a U.S.-based leader in firearm manufacturing and design, delivering a broad portfolio of quality firearms, related products, and training to the global military, law enforcement, and consumer markets. www.smith-wesson.com.
Conference Program
The program is designed to answer the following audience question: "How Do I Optimize Firearm Industry Compliance?" Session tracks will include the following:
Conference Track 1 – Manufacturing and Import / Export Operations
Conference Track 2 – Distributors and Dealers
Conference Track 3 – Enabling Technology and Regulations
Conference Track 4 – ATF Led: Annual Update; Front Line and Straw Purchases; Breakout Sessions on Rulings and Regulations; FFL-NFA-Import Licensing, Inspections and Traces, and Firearms Technical Branch matters.
More information about the conference can be found here.. Discounted hotel rooms end April 12, 2015.