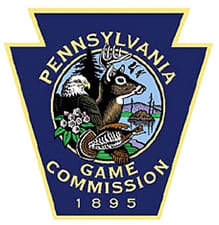 Pennsylvania -(Ammoland.com)-  Pennsylvania Game Commission Executive Director R. Matthew Hough today presented the agency's annual report to the General Assembly, and delivered testimony before the House Game and Fisheries Committee.
To view a copy of the agency's annual report, please visit the Game Commission's website (www.pgc.state.pa.us), put your cursor on "Resources" in the menu bar under the banner on the homepage, then select "Reports, Minutes and Surveys" in the drop-down menu, then click on "Annual Legislative Reports" and choose "2014" in the listing.
Following is Hough's testimony before the House Game and Fisheries Committee:
Good morning Chairman Gillespie, Chairman Harhai, and members of the House Game and Fisheries Committee.  It is truly my pleasure to appear before you today and deliver the Game Commission's 2014 Annual Report.
I would like to start with updates on two of the biggest wildlife challenges that we are facing, that I know are of interest to several members of the Committee.
The first is chronic wasting disease, or CWD, which was first detected in a commercial deer farm in Adams County in 2012. CWD was then found in three hunter-harvested deer in Blair and Bedford counties later that same year. And in the spring of 2014, it was found in another deer farm in Jefferson County. That caused the creation of a third Disease Management Area in the Jefferson County area. Within a Disease Management Area, certain activities are prohibited, such as the use of cervid (species within the deer family) urine-based attractants in an outdoor setting, the export of high-risk cervid parts, and the feeding of wild, free-ranging cervids. We also increased the CWD testing in those areas to determine the prevalence of the disease. We are currently awaiting the results from our most recent hunting season.
For this past season, we created the first Disease Management Area antlerless hunting permit within Disease Management Area 2, in Blair and Bedford counties where CWD has been found in the wild, in order to keep the deer population stable in that area. The permit allowed us to concentrate the antlerless deer harvest within the boundaries of the Disease Management Area without further reducing the deer population in the five Wildlife Management Units that are partially affected by the Disease Management Area.
As it has been well-documented, deer hunting is a big business in Pennsylvania and an important part of the state's culture. CWD poses a major threat to our deer herd and our hunting heritage, and with the discovery in Jefferson County, it is now in very close proximity to our elk population, and has the potential to undo over a century's worth of work in restoring elk to the Commonwealth.
Given the potential harm that CWD poses in Pennsylvania, we would be glad to work with members of this Committee, the Department of Agriculture and the Agriculture Committee, on developing tougher restrictions on deer within captive herds, as that appears to be the primary method by which the disease is being spread.
On another front, we continue to assess the effects of white-nose syndrome in cave-dwelling bats. White-nose syndrome has quickly become one of, if not the most devastating wildlife disease ever documented to impact a species in the Commonwealth. Not since the decline of the passenger pigeon in the late 19th century have we witnessed such devastation of a wildlife resource. We continue to work with the U.S. Fish and Wildlife Service, Pennsylvania Department of Conservation and Natural Resources, and research institutes across the nation to monitor the disease. As there has been no cure found, our efforts are focused on protecting the existing bats and minimizing their chances of contracting the disease. To that end, this fall we closed access to several hibernacula across the state in an attempt to limit disturbance of the bats and minimize the chances of humans spreading the disease, as the fungus that causes the affliction can easily be transmitted through footwear and clothing.
In 2014, we trained and graduated the 30th class of the Ross Leffler School of Conservation. Twenty-five new Wildlife Conservation Officers have been assigned to districts across the state.
Our officers recorded more than 200,000 enforcement contacts this past fiscal year and detected more than 20,000 violations. Of those violations, warnings were issued at a ratio of nearly 2 to 1, with 13,530 warnings and 7,045 citations. Officers from the Commission's Woodland Tracking Team also assisted in the manhunt for Eric Frein, for which they have received the gratitude of state, local and national law-enforcement agencies that relied upon their expertise in gathering evidence in a secluded and heavily wooded environment.
Our wildlife conservation officers will benefit greatly from the passage of House Bill 2178 of 2014, which authorized them to use body cameras in the performance of their duties. Multiple studies have shown that the use of cameras causes a significant decrease in the number of instances in which an officer is required to use force, and greatly enhances officer safety. We especially want to thank the members of this Committee, and in particular the bill's author, Representative Dan Moul, for providing our officers with this important safety measure.
The jewel of the Game Commission continues to be our Game Lands system, which is quickly approaching the 1.5 million-acre mark.  It contains 307 separate tracts in 65 of the 67 counties.  In the last fiscal year we acquired parcels that formed two new Game Lands, one in Indiana County and one in Tioga County. The Commission also added more than 3,500 acres to Game Lands in Luzerne County.
We are committed to managing our Game Lands to produce the best habitat for wildlife. We conducted prescribed burning on more than 5,000 acres, created or maintained more than 19,000 acres of fields and 1,900 acres of shrub lands, conducted commercial timber operations on more than 6,000 acres and administered over 5,500 acres of herbicide treatment.
A major focus at the Commission is maintaining Pennsylvania's proud hunting heritage.  In 2014, thanks to a grant from the U.S. Fish and Wildlife Service, we were the first state to develop a marketing campaign focused on re-engaging those who may have hunted previously but were no longer active in the sport. The initiative included radio and television commercials in several markets across the state, the creation of a streamlined hunting website as a quick resource on season dates and purchasing a hunting license, and most recently, the creation of a free, smartphone app that provides information on the nearest Game Lands, weather updates, maps, and a "SOS" feature for emergencies. The app is called "GoHuntPA Toolkit" and I encourage everyone to download it and try out this new feature.
Of course, a big component of maintaining our hunting heritage is the mentored youth program. For the 2013-2014 license year, we issued 35,380 mentored youth permits, the most ever since the inception of the program. The Board recently voted in favor of a proposal that will require that an adult supervising a mentored youth to give his or her antlered deer or turkey tag to a youth under the age of 7 who is successful. This was in response to complaints that the program was being abused by adults who were using it for the opportunity to fill extra tags. The Board will vote on whether to finalize that proposed regulation at its April meeting, and would appreciate your input.
Our Hunter-Trapper-Education program continues to provide quality, effective training for first-time license buyers. This past year, we certified 41,462 students through the program, which is the most to ever graduate in one year. We have used web-based analytics to schedule more classes at convenient times and locations and are seeing the upswing in graduates as a result.
We also recently developed an online Hunter-Trapper Education program for those ages 16 and older and, in the less than two months that it has been in existence, more than 200 individuals have successfully completed the course. We have received very positive feedback from those who took the class with many stating that they were curious about hunting for some time, but never had the opportunity to take a class near them at the time when one was scheduled. While this is new for the Game Commission, online classes have been in existence in multiple states for the past decade, and none of those states have seen a change in their hunting-safety statistics. Nonetheless, we will closely monitor this program to ensure that those who use it to buy a license are receiving an education that matches the quality of the one provided by our instructors in traditional classes.
This past year the Commission completed more than 1,500 environmental reviews for projects with the potential to impact threatened or endangered wildlife. The agency has 30 days to review these projects and I'm happy to report that most are completed in 10 days or less. Of those reviews, 226 were for energy development, which illustrates the impact that reviews for Marcellus Shale activity is having on our workforce. For this reason, we believe it would be appropriate for the Game Commission to be included in any legislation that creates a severance tax on Marcellus Shale development. It would ensure that proceeds dedicated to the Game Commission can begin to offset the increased workload and personnel costs we have experienced in responding to Shale development.
The elk herd continues to be a major attractant to hunters and non-hunters alike, drawing hundreds of thousands of visitors each season. This year, thanks to legislation introduced by Representative Matt Gabler, we were able to issue two special licenses to our primary partners in the elk range – the Rocky Mountain Elk Foundation and the Keystone Elk Country Alliance. From a raffle and an auction, those two tags produced $200,000 in revenue that will now be used to fund additional projects in the elk range. We were fortunate to host members of this Committee on a trip to the elk range last fall and would like to formally extend the invitation to hold another trip this fall so that Committee members can see firsthand how our efforts to restore the elk herd are benefiting the local community.
As we know, there will never be a hearing involving the Game Commission without the subject of deer management being raised, so let me address that topic. We recently released our harvest estimates for the 2014-2015 deer-hunting season. Those estimates indicate that approximately 303,973 deer were harvested last year. This represents a 14 percent decrease in the harvest totals from the prior year. Now, as all deer hunters know, there are a lot of factors that influence harvesting a deer, such as weather and the abundance of food, and those factors worked against hunters for most of this past deer season. However, there is another, even bigger factor, and that is the fact that the Commission lowered the antlerless allocation by almost 60,000 tags going into the past season. A lowered allocation usually means two things – fewer deer will be harvested in the season and more deer will be available on the landscape the following year. The decline in the harvest estimate for last year confirms the first part of that equation.
Nonetheless, Pennsylvania continues to be recognized as a premier deer-hunting state due to our abundance of public land and a stable deer population. We also consistently produce one of the leading harvest rates among northeastern states. As one example of the national recognition we receive, each year Bowhunter Magazine ranks the states according to total harvest density and archery harvest density and Pennsylvania consistently ranks near the top in this national publication. And we continue to see hunters harvesting older, more mature bucks than ever before. This year we offered a free big-game scoring session at our Harrisburg headquarters, and employees and volunteers worked for nine hours measuring potential record-book trophies. The reception was so strong that we had to turn people away when they tried to register before the event, because we didn't have enough staff to score all of the deer being brought in.
While we recognize that deer hunting is the primary motivation for many people to buy a license, it is still important to remember that deer are not the only species we are responsible for managing. Pennsylvania offers tremendous turkey-hunting opportunities. In fact, based on data collected by the National Wild Turkey Federation, for the 2014 combined spring and fall seasons, our turkey harvest ranked at the top in the nation. We are seeing similar results with our black-bear harvest, which far exceeds that of any of our neighboring states. We also offer an abundance of opportunities for small-game hunting. Those fortunate enough to be drawn for an elk license have an opportunity to pursue a world-class trophy bull. Very few states can offer the variety of game species and the overall quality of hunting that we have here in Pennsylvania.
Finally, just as there won't be a hearing without a discussion on deer management, so, too, must the issue of finances be discussed, specifically the agency's need for a hunting-license increase. The last increase in the cost of a hunting license was in 1999 when a general hunting license went from $12 to $19. The PA hunting license is one of the least expensive licenses in the nation, and I've included a chart on the final page of my testimony that shows the cost of our hunting license compared to other states.
In the past few years we have not made pursuing a license increase a priority for the agency. This is because we were poised to reap a short-term benefit from leasing Marcellus Shale rights on Game Lands. I am proud to report that we struck the right balance between maximizing the value of our interests in a manner that minimized the impact to wildlife and sportsmen. But we always knew that the Marcellus Shale would not be a permanent fix to the agency's long-term funding needs, and while development of the Shale allowed us to address some immediate concerns, such as equipment for our employees and training several new classes of WCOs, development of the Shale simply can't take the place of the North American Wildlife Management Model, which provides that hunters fund conservation through purchasing licenses. In accordance with that model, which has guided conservation for decades, we are once again asking for an increase in the cost of a hunting license to provide more funding for the agency.
As I mentioned, the last increase received was in 1999. At that time, the Commission had 731 full-time employees, with an annual personnel expense of $40.4 million. Today, 16 years later, we have fewer employees – 714 total – yet our personnel costs have more than doubled and the projected personnel costs for this fiscal year is $82.1 million. These costs are out of our ability to control, as our workforces are Commonwealth employees and subject to the benefit as such.
Our employees are the lifeblood of the Pennsylvania Game Commission. From our food and cover crews, biologists, foresters, dispatchers and Conservation Officers, it is our employees who implement the wildlife- and habitat-management plans, and provide services to the residents of the Commonwealth. The fact that we've been able to keep a level workforce for the past 16 years is a testament to our efficiency and the dedication of our employees. But moving forward, without an increase in funding, we simply will not be able to provide the level of services that we have always strived to maintain. Habitat work on Game Lands will go undone, research on species will not be completed, pheasant stockings will decrease, and violations of the law will go undetected. This is the stark financial reality that we face. Fortunately, I am confident that no one wants to see this scenario come to fruition – not the members of the General Assembly who have entrusted the Commission to manage the wildlife of the state; not the citizens of Pennsylvania who care about wildlife; not the dozens of conservation partners who have worked with us for decades on achieving our mission; and, most importantly, not Pennsylvania's hunters and trappers who for the past 120 years have consistently rose to the occasion to provide funding for the agency.
The Commission would like the opportunity to meet with members of this Committee and its counterpart in the Senate, as well as representatives from the hunting community, and develop a license-increase proposal that provides adequate, sustainable funding to the Commission at a cost that is not too much of a burden on the consumer. I am confident that together we can develop such a proposal to ensure the future of wildlife conservation in our Commonwealth.
That concludes my prepared remarks and I would be happy to answer any questions you may have.