Mississippi's third Quail Forever chapter will focus efforts on private land quail habitat, youth involvement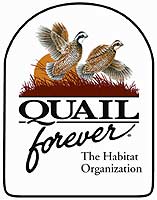 Benton, MI -(Ammoland.com)- Quail enthusiasts in central Mississippi have formed the third chapter of Quail Forever in the state.
Officially known as the Central Mississippi Chapter of Quail Forever, the group—which covers Holmes, Yazoo, Hinds, Madison, and Carroll counties—has been initiated to restore quail habitat on private lands, raise awareness regarding quail conservation, and provide local youth the opportunity to be involved in the outdoors.
"The primary goal of the chapter is to be an advocate for restoring quail to the wild by working with private landowners," explained Kevin Martin, elected president for the Central Mississippi Chapter of Quail Forever. "Then, we aim to pass that knowledge on to the youth and new hunters by way of 4-H clubs and hunter education courses."
Mississippi's Department of Wildlife, Fisheries, and Parks (MDWFP) small game program leader, Rick Hamrick, attended the chapter's first meeting to offer support and the desire to partner local conservation leadership with state conservation resources—specifically MDWFP's Bobwhite Quail Program and Private Lands Habitat Program. According to Hamrick, while quality quail habitat is no longer a byproduct of Mississippi's land use as it once was, the state still has significant acreage that could be quail habitat; it just takes dedicated efforts to actively manage land to make suitable quail habitat.
"The local energy that Quail Forever chapters provide is critical to help spread the quail conservation message and generate enthusiasm," stated Hamrick, "This is particularly important when it comes to enhancing quail habitat on private lands—there is no better champion for conservation in a local community than the people that live there. Thus, the MDWFP is excited to work with Quail Forever chapters on quail and other wildlife habitat conservation projects."

Quail Forever's regional representative in Mississippi, Andy Edwards, highlighted his excitement for the new chapter, "With the leadership of Kevin Martin, who is experienced at getting quail habitat onto private lands, this chapter is ready to do great things for quail in the state. Mississippi has a rich history of quail hunting, and we are excited to bring new attention to the sport and the preservation of the wild bird that we all love."
The new Quail Forever chapter in Mississippi will take advantage of Quail Forever's unique model of empowering chapters with 100 percent control of their locally-raised funds to complete habitat and youth education projects in the their own communities. For more information about Quail Forever in Mississippi, to join a chapter or inquire about starting a chapter, contact Andy Edwards at (931) 638-9478 / email.
Central Mississippi Chapter of Quail Forever
The Central Mississippi Chapter of Quail Forever has elected Kevin Martin of Benton as president and Porter Fouche of Benton as treasurer. The chapter will hold quarterly meetings with its next meeting taking place in early April in Carroll County. To become involved as a chapter volunteer, or for more information about the chapter, please contact chapter president, Kevin Martin, at (216) 406-5805 / email.
About Quail Forever
Quail Forever is the quail conservation division of Pheasants Forever. Together, the organization is the nation's largest nonprofit organization dedicated to upland habitat conservation. Pheasants Forever and Quail Forever have more than 140,000 members and 700 local chapters across the United States and Canada. Chapters are empowered to determine how 100 percent of their locally raised conservation funds are spent; the only national conservation organization operating through this truly grassroots structure.
For more information, please visit www.QuailForever.org.