West Point Cadets Take Top Honors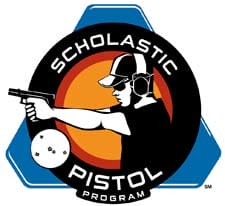 Fort Benning, GA -(Ammoland.com)- The Scholastic Pistol Program (SPP) held its 2015 Collegiate National Championships on March 21, with nearly 20 squads from nine schools vying for titles in both the Varsity (centerfire) and Junior Varsity (rimfire) divisions.
The United States Army Marksmanship Unit (USAMU) hosted the event at Fort Benning's Krilling Range in Georgia. Schools competing this year were Eastern Kentucky University, University of Kentucky, University of Florida, Florida State University, Michigan State University, Texas A&M University Corps of Cadets, Southeastern Illinois College, University of Vermont, and United States Military Academy at West Point.
The Cadets from West Point took first place honors in the Varsity Division, outshooting powerhouse Texas A&M Corps of Cadets by a score of 188.04 to 190.11. The 2.07 winning margin is one of the closest finishes in SPP history and sent the coveted Daniel C. Hodne Trophy to a new home on the Hudson River. The University of Florida Centerfire Squad 1 outpaced the Kentucky Wildcats to take third place.
In the Junior Varsity Division, West Point took its second title of the day over a strong runner-up Michigan State Green Squad, with Texas A&M Maroon Squad coming in third.
"The United States Army Marksmanship Unit Action Shooting Team looks forward to the chance to interact with students and host the Scholastic Pistol Program's Collegiate Nationals every year," said SFC Michael J. Buss, Action Shooting Team Chief, USAMU. "Our world-class facilities get our team ready for matches around the country, as well as sharpen soldiers' marksmanship skills through training. These young shooters are the future of the sport and only add to the excellence demonstrated every day by soldiers on Fort Benning."

"The USAMU has been a great partner in helping grow SPP as well as the future of our sport," said Scott Moore, SPP National Director. "They have been gracious enough to support SPP on several projects. Krilling Range has become a second home for us!"
Full results from the SPP Collegiate National Championships are available at https://sssfonline.org/scholastic-pistol-program-spp/match-results/.
About Scholastic Pistol Program
SPP is supported, in part, by founding partners GLOCK, Smith & Wesson, Action Target, and Larry and Brenda Potterfield of MidwayUSA. Additional partners include Atlanta Arms & Ammunition, Brownells, Browning, GT Targets, NextLevel Training, PACT Timers, PARA USA, Pro Ears, Remington Arms, Rudy Project, Ruger, SIG SAUER Academy, Tactical Solutions, and Winchester Ammunition, among others.
About Scholastic Shooting Sports Foundation
The Scholastic Shooting Sports Foundation (SSSF) is responsible for all aspects of the Scholastic Clay Target Program (SCTP) and Scholastic Pistol Program (SPP) across the United States. SCTP and SPP are youth development programs, originally developed by the National Shooting Sports Foundation (NSSF), in which adult coaches and volunteers use shooting sports to teach and to demonstrate sportsmanship, responsibility, honesty, ethics, integrity, teamwork, and other positive life skills.
To learn more about SCTP or SPP, call 210-448-8946 or visit www.SSSFOnline.org.