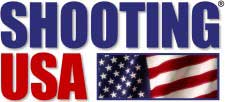 Nashville, TN -(Ammoland.com)- Shooting USA – The Nationals Matches at Camp Perry:
It was Teddy Roosevelt's vision to encourage civilian marksmanship. More than 100 years after, the Camp Perry National Matches are still fulfilling the mission. Plus, the multi-gun match that's all head-shots, Hornady's Pandemic in the Heartland. And The venerable '03 Springfield is one of History's Guns.
Shooting USA's Impossible Shots – Mr. Flintlock's Hair Cut:
George Sutton is cutting hair. It's a close shave for Mr. Flintlock on a single strand of hair. A target so thin George isn't sure he can see it, let alone shoot it. Plus Master Gunfighter, Cisko combines speed and accuracy. It's fast draw shooting from the world champ, but his target is only the size of a quarter.
AIR TIMES BY TIME ZONE:
The Shooting USA Hour Wednesday:
Eastern Time: 3:00PM, 9:00PM, 12:30 AM Thursday
Central Time: 2:00 PM, 8:00 PM, 11:30 PM
Mountain Time: 1:00 PM, 7:00 PM, 10:30 PM
Pacific Time: 12:00 Noon, 6:00 PM, 9:30 PM
Shooting USA is listed as a one-hour show in your cable menu.
Shooting USA's Impossible Shots:
Monday
Eastern Time: 4:30 PM
Central Time: 3:30 PM
Mountain Time: 2:30 PM
Pacific Time: 1:30 PM
Wednesday:
Eastern Time: 2:00 AM, 12:00 PM Midnight
Central Time: 1:00 AM, 11:00 PM
Mountain Time: 12:00 AM Tuesday, 10:00 PM
Pacific Time: 11:00 PM Tuesday, 9:00 PM
Saturday:
Eastern Time: 1:00 AM
Central Time: 12:00 Midnight Friday
Mountain Time: 11:00 PM Friday
Pacific Time: 10:00 PM Friday
After the 144th NRA Annual Meeting
The conversation of protecting our freedoms continues after another successful NRA Annual Meeting in Nashville. We enjoyed meeting all of you on the convention floor, and we hope you enjoyed the city we call home.
For more information, please visit www.NRAAM.org.
A Girl & A Gun
More than 200 women are gathering just outside of Austin, Texas for a weekend of shooting and sisterhood. That's why we're sending our female producer and crew out to A Girl & A Gun Conference, where ladies will learn about firearms safety, competition, and gunsmithing. See the coverage soon.
For more information, please visit www.AGirlandAGun.org.
About Shooting USA
Jim Scoutten, America's Most Watched Firearms Reporter, has been on the beat for 14 years, reporting the stories of the Shooting Sports and the firearms Industry. The show produces a series of popular segments focusing on historical guns, the personalities in the sport and industry, insider reports from gun tests, and practical tips from shooting sports pros. The show appeals to shooting sports enthusiasts of all ages and skill levels by providing practical tips on safely handling, modifying and repairing their favorite guns.
For more information, please visit www.ShootingUSA.com.
Follow the Action
Be sure to "Like" Shooting USA on Facebook for photos from the conference: https://www.facebook.com/JimScoutten.ShootingUSA?fref=photo.