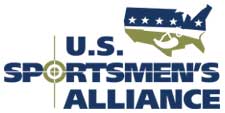 Columbus, OH -(Ammoland.com)- onXmaps, a leader in mapping solutions and technology for sportsmen, has joined USSA in the relentless effort to preserve our outdoor heritage.
By joining at the $2,500 Protector membership, onXmaps helps defend the interests of hunters, fishermen and trappers across the nation.
"It's exciting to watch USSA's business partnership program grow, especially when it grows with industry-leading companies like onXmaps. The mapping technology that onXmaps provides to their customers delivers instant information that is used to produce results in the field," said VP of Development and Membership Sean Curran. "Thanks again to onXmaps for their support of the USSA's business partnership program. They are a company truly having an impact on our mission to protect and advance the outdoor heritage."
With the onXmaps Hunt Map, finding a quality hunting location has never been easier. The application hosts a suite of tools that reveal landowner names, property boundaries, topography information and water data, as well as standard GPS functionality to navigate roadways.
Hunt Map was the first product launched by onXmaps. Since that time, Pheasants Forever, Mule Deer Foundation, Rocky Mountain Elk Foundation and other conservation organizations have used products developed by onXmaps for mapping related issues.
To learn more about onXmaps, please visit their website at onXmaps.com or find them on Facebook.
About the U.S. Sportsmen's Alliance
The U.S. Sportsmen's Alliance (USSA) is a 501(c)4 organization and provides direct lobbying and grassroots coalition support to protect and advance the rights of hunters, trappers, anglers and scientific wildlife management professionals. The USSA is the only organization exclusively devoted to combating the attacks made on America's sportsman traditions by anti-hunting and animal rights extremists. This is accomplished through coalition building, ballot issue campaigning and legislative and government relations.