Conservation organization boasts 153 active chapters nationwide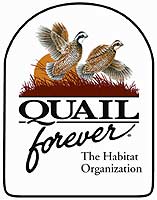 St. Paul, MN -(Ammoland.com)- Motivated by a desire to improve quail habitat across the country, a record number of members now belong to Quail Forever.
For the first time since the organization's launch in 2005, Quail Forever's membership has topped the 15,000 mark. Quail Forever currently claims 151 active chapter affiliates in 27 states. Many members are active volunteers for their local Quail Forever chapters, a number which also continues to grow: Alabama (5), Arkansas (2), Arizona (3), California (9), Florida (7), Georgia (9), Iowa (3), Idaho (1), Illinois (18), Indiana (9), Kansas (9), Kentucky (6), Louisiana (1), Minnesota (2), Missouri (23), Mississippi (3), North Carolina (2), Nebraska (4), New Mexico (1), Ohio (1), Oklahoma (9), Pennsylvania (1), South Carolina (2), Tennessee (12), Texas (6), Utah (1) and Virginia (2).
Quail Forever chapters utilize the organization's unique model of empowering chapters with 100 percent control of their locally-raised funds to complete habitat and youth education projects in the their own communities. In 2014 alone, volunteers put this model to work producing 1,805 wildlife habitat projects improving habitat for quail and other wildlife on 202,630 acres. These are important efforts considering the massive loss of habitat suitable for quail and the decline of many species of the bird. The bobwhite quail in particular has experienced a dramatic population plunge in the last three decades with an 80 percent decline.
"From California to Florida, Quail Forever members have rallied behind our mission of quail habitat restoration and volunteered countless hours to turn the tide for these iconic game birds," stated Howard K. Vincent, Quail Forever President and CEO. "I urge all those who understand the importance of every species of quail—the bobwhite, California, Gambel's, Mearns', mountain, and scaled quail—to join us in bringing back quality quail habitat across the country. Members, volunteers, advocates and activists on behalf of quail conservation are needed more than ever before."
Quail Forever will officially celebrate its 10th anniversary on August 10th, 2015. Get involved by becoming a member or volunteering for your local chapter.
For more information about Quail Forever, please contact Jared Wiklund, Quail Forever's public relations specialist, at (651) 209-4953 or [email protected]
About Quail Forever
Quail Forever is the quail conservation division of Pheasants Forever, Inc.. The organization is the nation's largest nonprofit organization dedicated to upland habitat conservation. Quail Forever and Pheasants Forever have more than 140,000 members and 700 local chapters across the United States and Canada. Chapters are empowered to determine how 100 percent of their locally raised conservation funds are spent; the only national conservation organization operating through this truly grassroots structure.
For more information, visit: https://quailforever.org.