Chapter to meet on May 12 in Phoenix to establish priorities for coming year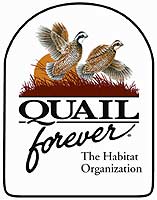 Phoenix, AZ -(Ammoland.com)- Quail hunters and conservationists in Arizona have embraced a local model for wildlife habitat conservation by adding a new chapter of Quail Forever in the state.
Officially known as the Copper State Chapter of Quail Forever, the new committee is targeting habitat improvements and conservation education as a means to creating lasting impacts for Gambel's quail and other wildlife in western Maricopa County.
"As a chapter, we hope to engage a number of quail hunters in the greater Phoenix area who can help contribute to our mission of wildlife habitat conservation for Gambel's quail," stated James Bingle, elected president of the Copper State Chapter of Quail Forever. "In addition to habitat improvement projects, our committee is also very determined to expose younger generations to the outdoors. Passing on the traditions of hunting and conservation is extremely important for the future of natural resources in Arizona and across the country."
Similar to all Quail Forever chapters nationwide, the Copper State Chapter of Quail Forever will utilize the organization's signature fundraising model. Unique among national conservation organizations, Quail Forever chapters are empowered with 100 percent control over the funds they raise at banquets and other events. This allows chapters to direct their funds to complete upland habitat projects and host youth conservation events in their areas.
"This is an exciting time for the state of Arizona as chapters continue to expand and quail have received necessary rainfall to make a comeback this spring," said Bob Hix, Quail Forever's regional representative for Arizona. "The Copper State Chapter of Quail Forever is a poised and enthusiastic group of outdoorsman who are going to make a noticeable difference for conservation efforts in the Phoenix area."
Copper State Chapter of Quail Forever
The Copper State Chapter of Quail Forever has elected James Bingle of Phoenix as president, Perry Chisum Jr. of Peoria as treasurer, Ward Simpson of Phoenix as banquet chair, and Donald Balach of Glendale as secretary.
For more information about the chapter or to become involved, please contact chapter president, James Bingle, at (602) 885-3538 / email.
The chapter will hold its next meeting on Tuesday, May 12, at 6:30 p.m. at Sportsman's Warehouse (19205 N 27th Ave – Phoenix, AZ 85027). Hunters and conservationists interested in joining the chapter as volunteers are encouraged to attend.
Quail Forever is the quail division of Pheasants Forever. Arizona is home to three Quail Forever chapters, and nearly 500 members of "The Habitat Organization." For more information about Quail Forever in Arizona, contact Bob Hix, regional representative for Quail Forever in Arizona at (303) 743-8957 / email.
About Quail Forever
Pheasants Forever, including its quail conservation division, Quail Forever, is the nation's largest nonprofit organization dedicated to upland habitat conservation. Pheasants Forever and Quail Forever have more than 140,000 members and 700 local chapters across the United States and Canada. Chapters are empowered to determine how 100 percent of their locally raised conservation funds are spent; the only national conservation organization that operates through this truly grassroots structure. Since creation in 1982, Pheasants Forever has spent $508 million on 475,000 habitat projects benefiting over 10 million acres nationwide.
For more information, visit www.quailforever.org.
Photo Credit: NRCS