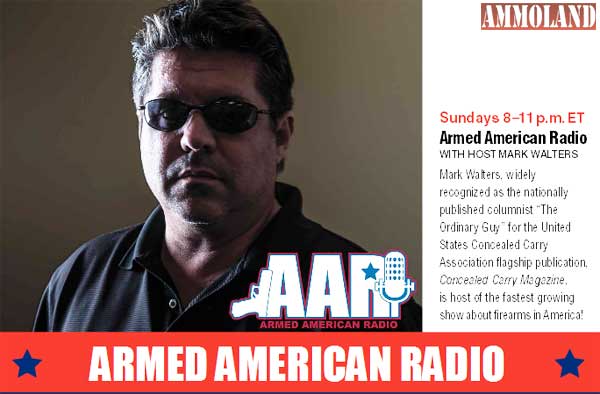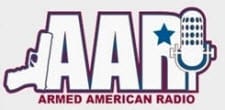 Pittsburgh, PA -(Ammoland.com)- Armed American Radio; with Mark Walters, now heard in hundreds of cities across America on over 150 stations has recently added Pittsburgh, Pennsylvania.
Beginning May 17, WPGP 1250 AM The Answer will add the live broadcast to its lineup from 8p-11p ET every Sunday evening. Additionally, Armed American Radio's daily program, Armed American Radio's Daily Defense with Mark Walters debuted nationally on Monday April 6.
Airing Monday through Friday from 4-5p ET (1-2p PT) the new show is experiencing explosive growth and proud to welcome the following affiliates to the daily broadcast lineup:
KBNP AM 1410 Portland, OR (MF 7-8p)
KNTH AM 1070 Houston TX (Tu-Sa 12m-1a)
KSVP AM 990 Albuquerque NM (MF 7-8p)
KEND FM 106.5 Roswell NM (MF 7-8p)
KYKN AM 1430 Salem OR (MF 3-4p)
WBLF AM 970 Altoona/Johnstown PA (M-F 12n-1p)
WDDQ FM 92.1 Adel GA (Tu-Sa 12m-1a)
WWTC 1280 AM The Patriot- Minneapolis/St. Paul MN (M-F 11p-12a)
WGKA AM920 The Answer- Atlanta GA (MF 11p-12a)
KVOP AM 1090 Lubbock TX (MF & Sunday 7p-10p)
KDAV AM 1590 Amarillo TX (M-F & Sunday 7p-10p)
KGTK AM 920 Olympia WA (MF 7-8p)
KITZ AM 1400 Silverdale WA (MF 7-8p)
Between the AAR flagship 3-hour powerhouse national broadcast heard every Sunday from 8p-11p ET (5p-8p PT) in hundreds of cities across America and the new AAR Daily Defense programs, host Mark Walters' voice can be heard "Filling your prescription for freedom," 7 days per week somewhere in America.
Host Mark Walters said, "The new daily program, as an addition to the flagship Sunday weekly show, allows me the incredible opportunity and flexibility to bring listeners the daily current news events from the perspective of the nation's millions of law-abiding gun owners in a way the mainstream press or other talk media can't, or won't."
In addition to the latest affiliates, both national broadcasts can be heard live via the new Live Stream at the program's website www.armedamericanradio.org.
For more information about Mark Walters and Armed American Radio, please visit: www.srnonline.com and www.armedamericanradio.org.
About the USCCA
The U.S. Concealed Carry Association (USCCA) is the first and largest, member-owned association designed to educate, train, and insure responsibly armed Americans. USCCA members receive access to a wealth of industry information and insurance protection through its Self-Defense SHIELD program. The USCCA also provides expert advice, product information, and the latest news centered around the concealed carry lifestyle via email, social media, Concealed Carry Magazine, and their nationally syndicated radio program Armed American Radio.
For more information, visit www.ArmedAmericanRadio.org.