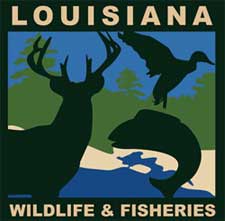 Louisiana -(Ammoland.com)- Louisiana Department of Wildlife and Fisheries Enforcement Division agents cited an Arnaudville man for allegedly illegally poisoning a coyote, eight vultures and three opossums in St. Martin Parish.
Agents cited Laurant W. Taylor, 71, for intentional concealment of wildlife, taking non-game birds illegally, taking non-game quadrupeds illegally and taking opossums illegally.
Agents began investigating Taylor when they received a complaint about dead birds that appeared to be poisoned along Mike LeBlanc Road.
Upon investigating the complaint agents noticed pig parts spread on the road and shoulder that had a white residue coating the surface.  Agents also located five dead vultures and two dead opossums a short distance from the pig parts.
After collecting the dead animals and pig parts for evidence, agents came into contact with Taylor who was driving his vehicle on the road.  Agents found out that Taylor farmed and hunted most of the surrounding areas.
On April 4 agents returned to the scene and found another three dead vultures, two dead opossums and another site of pig parts.  On April 7 agents learned that the chemical coating on the pig parts and dead animals was carbofuran.
On April 23 agents approached Taylor with the new found evidence of carbofuran.  Taylor admitted to lacing the pig parts with the chemical and spreading the parts out on the road to kill coyotes on March 29.  He said the area where he spread the pig parts was where he commonly hunted rabbits.  Taylor also admitted to finding and removing a dead coyote near the poisoned pig parts on April 1.
After obtaining all evidence, agents cited Taylor for the wildlife violations on May 6.
Intentional concealment of wildlife brings a $900 to $950 fine and up to 120 days in jail.  Illegally taking non-game quadrupeds and non-game birds each brings a $400 to $950 fine and up to 120 days for each offense.  Illegally taking opossums brings a $250 to $500 fine and up to 90 days in jail.
Taylor also faces a total of $139.28 in civil restitution for the illegally killed animals.
Agents participating in the case are Sgt. Ryan Faul, Sgt. Brian Theriot, Senior Agent Cullom Schexnyder, Senior Agent Jason Sanchez and Agent Andrew Arton.
For more information, contact Adam Einck at 225-765-2465 or [email protected].