FEATURED FINISHES FROM REALTREE, MOON SHINE CAMO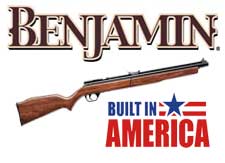 BLOOMFIELD, New York –-(Ammoland.com)- The preferred air rifle of serious hunters is now available in popular camouflage finishes in a limited edition run available exclusively on crosman.com.
The Benjamin Marauder .25 caliber precharged pneumatic rifle can be ordered in Realtree MAX-1, Realtree Xtra or Moon Shine Camo's Muddy Girl.
The Marauder delivers lethal accuracy to 75 yards on small game and 40 yards on furbearers and predators. With a factory-installed shroud and suppression system, neighbors or nearby game animals won't hear the shot, giving shooters more hunting opportunities.
The Marauder has long been considered a rifle that shoots beyond its price point and the addition of an adjustable comb and increased shot count have added to its reputation as the definitive air rifle for hunters.
"Realtree MAX-1 is perfect for western hunters looking to blend in amongst the sage in arid environments, while Realtree Xtra is an amazingly realistic woodland pattern," said Chip Hunnicutt, Marketing Manager for Crosman.

"Muddy Girl is one of the hottest patterns on the market and we are excited to partner with Moon Shine Camo to be the first company to feature it on an airgun."
The Benjamin Marauder is being offered for $599.99 in any of three patterns. Current Marauder owners may purchase the stock for $125.00 and easily install it themselves. The Marauder is also available in an all-weather black synthetic stock and a wood stock for $579.99.
For additional information on these limited edition Benjamin Marauder rifles, visit crosman.com or call (800) 7–AIRGUN (724-7486).
For up-to-the-minute news from Crosman Corporation, follow us on Twitter (@crosmancorp).
For over 90 years Crosman has led the world in the design and manufacture of airguns and airgun ammunition, along with airsoft, optics and shooting sports accessories. Headquartered in Bloomfield, N.Y., the company sells its products worldwide under the Crosman®, Benjamin®, CenterPoint®, Game Face® and Undead Apocalypse® brands. For more information about any of these brands or products, please contact Crosman Public Relations at (800) 7-AIRGUN or visit crosman.com.