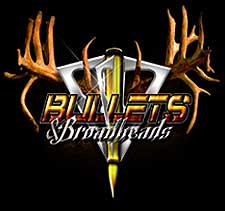 WEATHERFORD, Tx. (Ammoland.Com) – Bullets & Broadheads TV, featuring Michael and Sonia Hendrick, is reaching out to their local community and helping children with wishes by donating two bowfishing trips for two children and their parents for the North Texas Make-A-Wish® Event.
Bullets & Broadheads currently airs Sunday nights at 7 p.m. ET exclusively on Sportsman Channel. Learn more at http://bulletsnbroadheads.com
The North Texas Make-A-Wish® Event is called Operation: Wish and since its inception has granted nearly 1,700 wishes in North Texas to children battling life-threatening medical conditions. Operation: Wish hopes to raise more than $1.43 Million to help continue the Make-A-Wish® mission.
"We are proud to continue helping children enjoy the outdoors with their families, which is why we enjoy donating a bowfishing trip – it is an outdoor adventure everyone in the family can really get involved in and you are pretty much guaranteed to get fish!" said Michael Hendrick.
Sponsors of Bullets & Broadheads for 2015 include: Cabela's, ATN, Henry Repeating Arms, Road Armor, Excel Arms, Ultimate Wild, Graffix Express, Tactacam and Anilogics Outdoors. Returning sponsors are: Badlands, Crossbreed Holsters, Hornady Ammo, Caldwall Shooting Supplies, Birchwood Casey and Lumenok.
Learn more about Bullets & Broadheads at http://www.bulletsnbroadheads.com and on Facebook at https://www.facebook.com/pages/Bullets-Broadheads/107777472594725?ref=hl
About Bullets & Broadheads
Big country, big whitetails, big hearts and big family ties – Bullets & Broadheads is a true grit, real story, Texas country outdoor show. For generations, the Hendrick family grew up harvesting trophy wildlife from the far stretches of Texas underbrush. Today, Michael, Sonia, Michael J., and Mckenzie share those traditions in search of their next monster whitetail. Texas is big country, where the hunts are wild, the people are a dose of southern comfort and family blood comes first. The Hendricks bring Texas living, community and conservative hunting to viewers across the nation. Learn more at http://bulletsnbroadheads.com