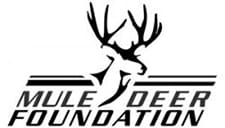 Salt Lake City, UT -(Ammoland.com)- There's nothing more important to the future of our hunting heritage than getting kids into the great outdoors, and two Mule Deer Foundation chapters in Colorado recently did their part to actively engage the next generation.
On April 25th, the Pass the Buck Chapter worked with Colorado Parks and Wildlife and 40 other organizations to put on Heritage Days in Palisade, Colorado. Then on May 2, the Pikes Peak Chapter hosted a M.U.L.E.Y. (Mindful, Understanding, Legal, and Ethical Youth) Kids' Day at Rocky Mountain Roosters in Calhan, Colorado.
Both events featured collaboration with many conservation partners and the Colorado Parks and Wildlife to teach shooting sports, outdoor skills, hunting ethics and conservation to the participants. Combined, there were nearly 1,000 kids at the two events.
"Passing on our outdoor traditions and the principles of conservation to the next generation is one of the most important things that we can do as an organization," stated Marty Holmes, MDF's regional director for Colorado. "We look forward to hosting our youth events every year because we get to see the spark and excitement in every kid that comes through the many different hands-on activities that we provide."
It was cold and rainy day for the Heritage Days event in Palisade, but there were still more than 500 youth who passed through. The Pass the Buck Chapter facilitated an air rifle range at this event, and numerous other groups hosted fishing, shooting, archery and other outdoor activities. The Colorado Parks and Wildlife took a large part in the event bringing together all of their different divisions to provide educational activities for all ages at the event. All of the supporting groups pitch in to provide the attendees a free lunch as well as their respective activities.
"It was great to see so many kids and their families come out and enjoy all of the activities even with the unpleasant weather we had. Witnessing some of these kids shoot their first rifle is what keeps everybody working so hard to continue these types of events." said Jon Nestor, MDF's 2015 Ally of Youth Award recipient and State Chairman for MDF in Colorado.
This was the third official M.U.L.E.Y. Kids' Day hosted by the Pikes Peak Chapter and it was clear that the vision has taken hold. More than 100 youth and their families worked their way through the many hands-on activities that were available. Participants were able to shoot shotguns, BB guns, .22 rifles, black powder rifles, and archery under the capable supervision of Pheasants Forever, 4-H Shooting Sports, Colorado Springs Muzzle Loaders, the Rocky Mountain Elk Foundation, and the Colorado Springs Junior Olympic Archery Development respectively. In addition, there was Cowboy Action shooting demonstrated by the Colorado Shaketails, turkey and duck calling from the National Wild Turkey Federation and Ducks Unlimited, a field dressing and cape care session conducted by Elk Ridge Taxidermy, and even a llama packing hosted by Colorado Pack Llamas.
Colorado Parks and Wildlife coordinated several hunting ethics, operated wildlife conservation and wildlife telemetry stations and they also brought their Operation Game Thief trailer to teach about the ill effects of poaching. It wasn't all about hunting though, fly tying and fly casting instruction was provided by Trout Unlimited. All guests and volunteers were provided lunch and each kid were given goodie bags upon completion of all the activities.
"This event is an outstanding and worthy investment into the future of our kids, wildlife conservation, and our hunting heritage," said Pikes Peak Chapter Chairman Weldon Flaharty. "Our chapter's Youth Programs Coordinator, Brooke Cruz, was instrumental in the event's success and we couldn't have done it without the hard work of all our partner organizations and our hosts at Rocky Mountain Roosters. Major Contracting Services, B & S Processing and BMaKK Corporation also pitched in for necessary services during the event. It's truly a team effort!"
About MDF
The Mule Deer Foundation is the only conservation group in North America dedicated to restoring, improving and protecting mule deer and black-tailed deer and their habitat, with a focus on science and program efficiency. MDF is a strong voice for hunters in access, wildlife management and conservation policy issues. MDF acknowledges regulated hunting as a viable management component and is committed to recruitment and retention of youth into the shooting sports and conservation.
Get involved at www.muledeer.org or call 1-888-375-3337.