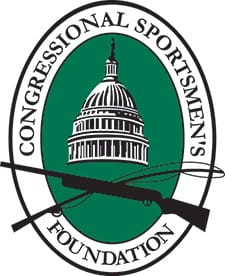 Washington, DC -(Ammoland.com)- The Congressional Sportsmen's Foundation (CSF) is seeking a Mid-Atlantic States Coordinator to co-manage the state sportsmen's caucus effort organized under the National Assembly of Sportsmen's Caucuses (NASC) and the Governors Sportsmen's Caucus (GSC) programs for the Mid-Atlantic Region of the United States.
Position Description
The Mid-Atlantic States Coordinator will serve as the lead contact for state sportsmen's caucuses, governors' offices, state agencies, industry partners and non-governmental organizations in five states. The successful candidate will work a traditional work schedule Monday-Friday, though evening and weekend travel will, at times, be required.
This is an entry level, full-time salaried position with upward mobility potential.
Duties and Responsibilities
Analyze and track state legislation of interest to sportsmen.
Serve as point of contact for inquiries from legislators/conservation organizations interested in establishing or further developing a state sportsmen's caucus.
Serve as a clearinghouse for information relevant to state sportsmen's caucus legislators about sportsmen's issues, including pertinent federal regulatory/legislative issues.
Liaise and provide counsel to the state sportsmen's caucuses in Delaware, Maryland, New Jersey, Pennsylvania, and Virginia.
Assist with events/event planning including individual state caucus events and the NASC mid-year and annual meetings.
Represent CSF at state caucus functions, meetings, and events.
Develop content for an electronic newsletter for state issues and state caucus activity.
Facilitate and serve as a network between partners, state agencies, federal caucus, state legislative sportsmen's caucuses, and Governors Sportsmen's Caucus members.
Provide administrative support for States Policy Team members in regional offices.
Qualifications
Minimum of a Bachelor's Degree. Preference given to candidates with degrees in wildlife biology, fisheries biology, conservation biology or natural resource management; or, candidates with degrees in public policy, political science, or related fields, with prior experience in natural resource issues.
Demonstrated knowledge of and/or familiarity with the legislative process, state legislatures, Congress, and/or governmental agencies, as well as sportsmen's policy issues.
Supporter of hunting, angling, recreational shooting, trapping, and professional wildlife management.
Able to build and maintain relationships with various stakeholder groups, elected officials, and their staff.
Able to establish priorities, work independently, and process objectives with minimal supervision.
Willing to travel (up to 25%).
Willing to work nontraditional hours, when needed, including evenings and weekends.
Proficient in Microsoft Office.
How to Apply:
Please send a cover letter, resume, college transcript, three references, and a writing sample by email to Kelli Wagner at [email protected], or mail to: Congressional Sportsmen's Foundation, 110 North Carolina Avenue, SE, Washington, DC 20003
See more at: http://www.sportsmenslink.org/about/employment.
About CSF
Since 1989 the Congressional Sportsmen's Foundation (CSF) has maintained a singleness of purpose that has guided the organization to become the most respected and trusted sportsmen's organization in the political arena. CSF's mission is to work with Congress, governors, and state legislatures to protect and advance hunting, angling, recreational shooting, and trapping. The unique and collective force of the Congressional Sportsmen's Caucus (CSC), the Governors Sportsmen's Caucus (GSC) and the National Assembly of Sportsmen's Caucuses (NASC), working closely with CSF, and with the support of major hunting, angling, recreational shooting, and trapping organizations, serves as an unprecedented network of pro-sportsmen elected officials that advance the interests of America's hunters and anglers.
For more information, visit www.sportsmenslink.org.