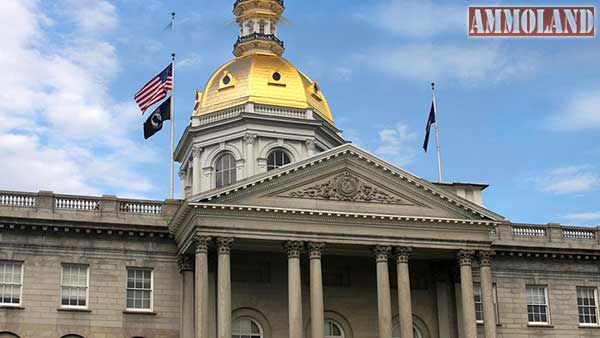 Fairfax, VA -(Ammoland.com)- NRA-backed Right-to-Carry reform legislation, Senate Bill 116, was recently passed by the New Hampshire House, as previously reported.
This legislation is now on the Senate calendar awaiting a final concurrence vote before being sent to Governor Maggie Hassan for her consideration.  SB 116, sponsored by state Senator Bradley (R), is critical pro-gun legislation that would expand your Second Amendment rights by:
Repealing the existing law requiring a person to have a concealed firearm license in order to carry concealed (permitless carry)
Increasing the length of time a license to carry is valid
Directing the State Police to enter into reciprocity agreements with other states to recognize their licenses
Leaving the current carry permitting system intact for those who wish to participate in reciprocal concealed carry permit agreements when traveling to other states
In New Hampshire, existing state law recognizes the right of any citizen who can legally own/possess a firearm to carry it openly, either loaded or unloaded, anywhere in the state not prohibited by law.  Since law-abiding citizens can carry a firearm openly without a permit, they should not become criminals just because they put on a jacket or place their firearm in their purse or briefcase.  Law-abiding citizens do not suddenly turn into violent criminals just because they choose to conceal their firearm.
Governor Maggie Hassan is expected to veto Senate Bill 116.
It is important that you contact the Governor and politely urge her to reconsider her position on this critical legislation.

Unfortunately, due to the volume of incoming correspondence, the Governor's email system is experiencing problems.  Please contact the Governor by either phone or fax listed below.

Governor Maggie Hassan:
Phone: (603) 271-2121
Fax: (603) 271-7640
Email
About the NRA-ILA
Established in 1975, the Institute for Legislative Action (ILA) is the "lobbying" arm of the National Rifle Association of America. ILA is responsible for preserving the right of all law-abiding individuals in the legislative, political, and legal arenas, to purchase, possess and use firearms for legitimate purposes as guaranteed by the Second Amendment to the U.S. Constitution.
For more information, please visit: www.nra.org. Be sure to follow the NRA on Facebook at NRA on Facebook and Twitter @NRA.