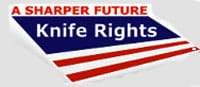 Gilbert, AZ –-(Ammoland.com)- Have breakfast with Milwaukee County Sheriff David A. Clarke, Jr., "The People's Sheriff," at Knife Rights' Sharper Future Awards Breakfast on Saturday, June 6th, during BLADE Show in Atlanta, Georgia.
A fearless and outspoken defender of the Constitution and the Second Amendment, Sheriff Clarke will start your Saturday right with a talk that is sure to entertain and inspire.
After the breakfast, attendees can enjoy the BLADE Show, the world's largest knife show held next door at Cobb Galleria Centre.
Milwaukee County Sheriff David A. Clarke Jr. is a lifelong resident of the city of Milwaukee, a graduate of Marquette University High School and a summa cum laude graduate of Concordia University Wisconsin. In 2013 he received his Masters in Security Studies from the US Naval Postgraduate School, Center for Homeland Defense and Security.
After serving 24 years on the Milwaukee Police Department, in March 2002 Clarke was appointed Milwaukee County Sheriff by Governor Scott McCallum. In November 2002 he was elected to his first four-year term, earning 64% of the vote. He was re-elected in November 2006, 2010, and 2014, increasing his margin of victory to 73%, 74% and 79%, respectively. The 2014 victory came after billionaire Michael Bloomberg spent a small fortune trying to defeat Clarke in the primary in an effort to crush an outspoken pro-Second Amendment supporter.
Sheriff Clarke is a frequent guest commentator for national news organizations and associations as an expert on law enforcement, the Second Amendment and homeland security issues, including: CNN, Fox News, Glenn Beck, The Washington Times, The Washington Post, National Public Radio, Politico.com, National Rifle Association, Conservative Political Action Conference, and the US Concealed Carry Association.
In 2013 Sheriff Clarke received the Sheriff of the Year Award from the Constitutional Sheriffs and Peace Officers Association for "staying true to his oath, true to his badge, and true to the people he has promised to serve and protect." In 2015 he received of the Charlton Heston Courage Under Fire Award from the Conservative Political Action Conference. CPAC only presents the award in years when it deems it is merited, to an individual "who stands up for their principles, even when doing so puts them at risk physically, politically, or economically."
Sheriff Clarke is a member of numerous professional organizations, including the International Association of Chiefs of Police, Major County Sheriffs' Association, American Jail Association, Badger State Sheriff's Association, National Organization of Black Law Enforcement Executives, and the National Sheriffs' Association, serving on its Legal Affairs Committee.
Knife Rights' Sharper Future Awards Breakfast will be held Saturday, June 6, 2015, at 7:30 AM in the Waverly Renaissance Hotel adjacent to Cobb Galleria Centre.
CLICK HERE to PURCHASE TICKETS or call Toll-Free 1-866-889-6268 (M-F 9:00 AM – 5:00 PM MST Please)
SEATING IS LIMITED!
Tickets will NOT BE AVAILABLE at BLADE Show or at the Door. Get Your Ticket Before They Are All Gone!
About:
Knife Rights (www.KnifeRights.org) is America's Grassroots Knife Owners Organization, working towards a Sharper Future for all knife owners. Knife Rights is dedicated to providing knife owners an effective voice in public policy. Become a Knife Rights member and make a contribution to support the fight for your knife rights. Visit www.kniferights.org