By Major Van Harl USAF Ret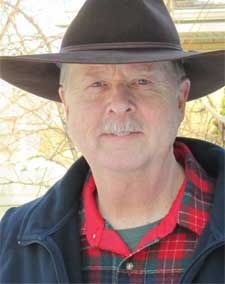 Wisconsin -(Ammoland.com)-  After fifty years I am headed back to the small village of Innellan, Scotland on the river Clyde.
The Colonel and the new 2nd Lieutenant are taking me there because I have been talking about going back as long as I have been married, and for my daughter as long as she could speak and understand.
I have all these alleged fond memories, some that I will have to reevaluate after I get back in-country.
One not so fond memory is the cold and damp of my village. We did not have central heating. There was one coal-fired fireplace in the kitchen where we spent most of our time, and the rest of the heating was done with Aladdin kerosene space heaters.
We had two of these heaters and we would move them around the house to whatever room we were using. At night we left them running in the hallway to keep the house warm.
It never dawned on me that everything we owned and everything we wore smelled like burning kerosene. Everyone we knew used kerosene space heaters so everyone else smelled like kerosene also.
My mother grew up on a farm in Iowa without electricity and as the youngest of the children it was her job to walk to the store down the road, buy kerosene and haul it back home for the lamps and lanterns used by her family. She also was responsible for refilling and cleaning the lamps.
As a nine year old child my assigned tasked given to me by my father, the Navy Master Chief, was to refill and maintain the Aladdin kerosene heaters. The Scots did not call it kerosene, they called it paraffin. At least twice a week I would take the heaters out onto the front porch steps and refuel them. There was an enclosed door way I could have used to stay out of the cold Scottish rain as I refilled the heaters, but I always managed to spill kerosene on the floor so I was banished to perform my fueling task outside.
If my mother was preparing a large meal and needed another cooking surface, she would have me bring a heater into the kitchen. She would place a metal pan on the top to heat up some side dish for that evening meal. When we left Scotland and returned to the US we brought back one of the Aladdin heaters. We continued to use it and the folks still have it for emergencies.
Now the Aladdin heaters are considered antiques and sell at collector prices. I have my own kerosene space heater that I bought over 30 years ago. It still works and I still use it on occasion.
While stationed in Alaska I was introduced to Aladdin kerosene lamps and now have a shelf full of them along with my Dietz kerosene lanterns. I always keep kerosene on hand, but my wife and daughter do not really like the smell of the burning lamps inside the house. For years in Scotland I never noticed.
Using kerosene to heat, light and cook on seems rather quaint in North America, but in countries such as India and Nigeria almost all the cooking is performed on a kerosene stove. The Indian government subsidizes the cost of kerosene, so it sells for about 15 cents US for a liter of kerosene. This is done to keep the population from deforesting the nation looking for fuel.
Only 0.1 percent of a barrel (over-all average) of oil is made into kerosene. That does not sound like much, but that means approximately 1.2 million barrels of kerosene is consumed world-wide every day. So while it appears old fashion for modern Americans to be using kerosene for heat, light and cooking, for millions of people that is the only source of regularly available fuel.
Finding bulk kerosene in third world countries is easier to accomplish than readily finding it in North America.
American insurance companies do not like kerosene space heaters. Owners fail to maintain the wicks properly and the soot rises up. If not caught immediately it can cover the inside walls and furnishings of a home in a couple of hours. Then of course the home/policy owner wants the insurance company to clean up the mess and pay for it.
Kerosene, the fuel of my youth, is now more of a novelty, but I can pull down any one of my kerosene lamps or lanterns off the shelf, fuel them up and have light in minutes. I can also get out my space heater and my kerosene cooking stove and use them if the power goes off.
Some replacement parts are available online. However, kerosene is not cheap in this country – no government subsidies.
When the electricity goes out people will put up with a bit of a "smell" in order to see in the dark, also most of the Scottish homes have central heating now.
Major Van Harl USAF Ret. / [email protected]
About Major Van Harl USAF Ret.:
Major Van E. Harl USAF Ret., a career Police Officer in the U.S. Air Force was born in Burlington, Iowa, USA, in 1955. He was the Deputy Chief of police at two Air Force Bases and the Commander of Law Enforcement Operations at another. He is a graduate of the U.S. Army Infantry School.  A retired Colorado Ranger and currently is an Auxiliary Police Officer with the Cudahy PD in Milwaukee County, WI.  His efforts now are directed at church campus safely and security training.  He believes "evil hates organization."  [email protected]