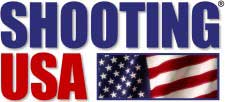 Nashville, TN -(Ammoland.com)- We're inside the Smith & Wesson Shooting Center covering the IDPA Indoor Nationals.
Interactive and realistic scenarios challenge the best in the sport. John has the highlights, with Tony Pignato making his debut as competition analyst. Plus, the breakthrough John Browning pistol design that's now one of History's Guns.
And, a young shooter, Hunter Cayll, defies the odds and shares his inspiring story.
Shooting USA's Impossible Shots – Jerry's Pinky Challenge
Smith & Wesson Pro Jerry Miculek puts his pinky to the test in 50-yard precision shots with snub nosed revolvers and semi-autos. Plus Jerry proves he's faster with his pinky than the rest of us are with our normal trigger fingers in a speed shooting challenge.
AIR TIMES BY TIME ZONE
The Shooting USA Hour Wednesday:
• Eastern Time: 3:00PM, 9:00PM, 12:30 AM Thursday
• Central Time: 2:00 PM, 8:00 PM, 11:30 PM
• Mountain Time: 1:00 PM, 7:00 PM, 10:30 PM
• Pacific Time: 12:00 Noon, 6:00 PM, 9:30 PM
Shooting USA is listed as a one-hour show in your cable menu.
Shooting USA's Impossible Shots:
Monday:
Eastern Time: 4:30 PM
Central Time: 3:30 PM
Mountain Time: 2:30 PM
Pacific Time: 1:30 PM
Wednesday:
Eastern Time: 2:00 AM, 12:00 PM Midnight
Central Time: 1:00 AM, 11:00 PM
Mountain Time: 12:00 AM Tuesday, 10:00 PM
Pacific Time: 11:00 PM Tuesday, 9:00 PM
Saturday:
Eastern Time: 1:00 AM
Central Time: 12:00 Midnight Friday
Mountain Time: 11:00 PM Friday
Pacific Time: 10:00 PM Friday
Revolver Nationals 2015
More than 32,000 rounds will be fired at the USPSA Revolver Nationals at PASA Park in Illinois. It's where the top wheel gunners in the country aim for accuracy and speed. So, who will take the title? Stay tuned for the action in the coming weeks!
Follow the Action
About Shooting USA
Jim Scoutten, America's Most Watched Firearms Reporter, has been on the beat for 14 years, reporting the stories of the Shooting Sports and the firearms Industry. The show produces a series of popular segments focusing on historical guns, the personalities in the sport and industry, insider reports from gun tests, and practical tips from shooting sports pros. The show appeals to shooting sports enthusiasts of all ages and skill levels by providing practical tips on safely handling, modifying and repairing their favorite guns.
For more information, please visit www.ShootingUSA.com.