Press conference at General Assembly kicks of radio campaign featuring NC Moms saying, "Michael Bloomberg doesn't speak for me"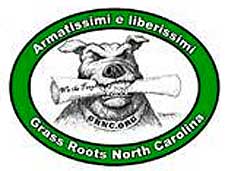 Raleigh, NC -(Ammoland.com)- Billionaire Michael Bloomberg and his "astroturf" gun control group calling itself "Moms Demand Action" last week kicked off a $12 million gun control ad campaign, including TV spots in North Carolina making the false claim that House Bill 562 ("The Second Amendment Affirmation Act") will "abolish" gun purchase background checks.
To highlight Bloomberg's many mistruths, including his claim to "100,000 North Carolina members," Grass Roots North Carolina is responding with a radio campaign featuring real North Carolina mothers delivering the message, "I'm a North Carolina Mom, and Michael Bloomberg doesn't speak for me."
NC Mothers Against Bloomberg Press Conference:
Tuesday, May 19, 1:00 PM
North Carolina General Assembly Press Room (Legislative Building Room 1328)
16 West Jones Street, Raleigh, NC 27601, 919-733-4111
To year the press conference online, go to: https://www.ncleg.net/Audio/Audio.html.
About Grass Roots North Carolina
Grass Roots North Carolina is an all-volunteer organization dedicated to preserving the freedoms guaranteed us by the Bill of Rights. Our main focus is the right to keep and bear arms. GRNC was central to drafting and passing North Carolina's concealed handgun law and since that time has continued to push for improvements to gun laws.
For more information, visit: www.grnc.org.