STATEMENT ON PASSAGE OF HB910 IN THE LEGISLATURE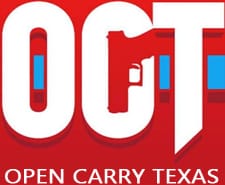 Temple, TX –-(Ammoland.com)-  I am extremely proud of what our members have been able to accomplish in just one legislative session.
With the House and Senate both working together to pass open carry, Texas becomes the 45th state without such restrictions.
I made a promise that Texas would be an open carry state by January 1 2016, but that promise would be nothing but an utterance without the hard work of our more than 50,000 members over the past two years.
Friends and supporters, we have walked hundreds of miles together in every major city and most counties in Texas over more than 2,500 events and rallies. We've handed out tens of thousands of leaflets and pamphlets. We've attended close to 100 gun shows. We've called, written, or spoken directly with every member of the 84th legislature.
Together, we have succeeded in making open carry a weekly story in the news here in Texas, across the country, and around the world. We've been covered in France, Canada, Japan, Australia, Spain, Mexico, the UK, Russia, and Germany. We've endured two years of attacks from gun control advocates and even pro-gun types for our tactics.
We were told our efforts would prevent this day from happening. We were told we were "hurting the cause." And we proved them all wrong.
Our goal over the next two years is simple: prove the naysayers wrong and show that an armed society is a polite society; to prove that cops won't have trouble telling the difference between a good guy and a bad guy; and to prove that open carry won't result in people losing their minds in fear. And after we accomplish that, we come back during the 85th legislature and we get the rest! We are not done yet!
I also want to recognize the hard work of Pastor Terry Holcomb Sr. and Texas Carry! Congratulations to YOU on this victory!
About Open Carry Texas: Our purpose is to 1) educate all Texans about their right to openly carry rifles and shotguns in a safe manner; 2) to condition Texans to feel safe around law- abiding citizens that choose to carry them; 3) encourage our elected officials to pass less restrictive open carry legislation for all firearms, especially pistols; and (4) foster a cooperative relationship with local law enforcement in the furtherance of these goals with an eye towards preventing negative encounters. www.opencarrytexas.org