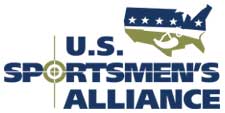 Columbus, OH -(Ammoland.com)- Otis Technology, manufacturers of the world's most advanced gun cleaning systems and accessories, recently renewed their business membership with U.S. Sportsmen's Alliance at the $2,500 President's Club level.
The renewal marks the eighth year that Otis Technology has partnered with USSA in the fight to defend hunting, fishing and trapping for sportsmen of today and tomorrow.
"We strongly believe in the importance of preserving our outdoor heritage for future generations," said Otis Technology Vice President of Sales and Marketing, Len Nelson. "We are proud to continue our partnership with the U.S. Sportsmen's Alliance to aid in their efforts on behalf of sportsmen and women across the country."
Over the course of their eight year membership, Otis Technology has further supported the USSA mission by routinely donating quality items for fundraising events. Both staff and attendees appreciate the presence of Otis Technology's reputable brand, which offers a wide variety of made-in-the-USA products to hunters, shooters, law enforcement and military personnel.
"The business partnership between Otis Technology and USSA continues to grow stronger each and every year," said USSA Vice President of Membership and Development, Sean Curran. "Not only has Otis Technology renewed their annual partnership, but they have also supported USSA's mission through additional sponsorship opportunities. We are looking forward to growing the relationship and providing more value to Otis, while also furthering the mission to protect and advance our outdoor heritage."
To learn more about Otis Technology, please visit their website or find them online on Facebook, Twitter and YouTube.
About Otis Technology
Otis Technology is known for manufacturing the most advanced gun cleaning systems available. The superior Breech-to-Muzzle design combined with unmatched quality has positioned Otis as the gun care system of choice with the US Military. Otis Technology is SMART GUN CARE.
For more information, visit www.otisgun.com.
About the U.S. Sportsmen's Alliance
The U.S. Sportsmen's Alliance (USSA) is a 501(c)4 organization and provides direct lobbying and grassroots coalition support to protect and advance the rights of hunters, trappers, anglers and scientific wildlife management professionals. The USSA is the only organization exclusively devoted to combating the attacks made on America's sportsman traditions by anti-hunting and animal rights extremists. This is accomplished through coalition building, ballot issue campaigning and legislative and government relations.
Stay connected to USSA: Online, Facebook and Twitter.