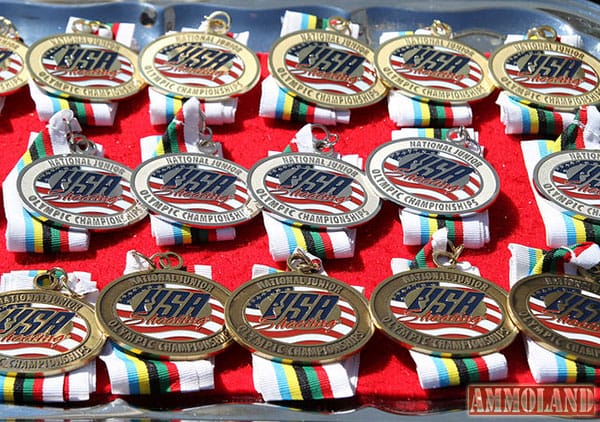 Colorado Springs, CO -(Ammoland.com)- National Junior Team members Lydia Paterson and Wyatt Brown showcased their pistol skills with dominant victories Tuesday to conclude the pistol portion of the 2015 National Junior Olympic Shooting Championships (NJOSC).
Paterson (Kansas City, Kansas) claimed her second straight NJOSC title highlighted by the National Junior record score she recorded during her first qualification match on Monday. The 388 out of 400 breaks the previous mark of 386 shot by Rebecca Snyder back in 1995. Snyder also holds the National mark as well at 390, set in 2006. Paterson's score is the best Women's Air Pistol score shot by American since Sandra Uptagrafft's 387 at the 2012 USA Shooting National Championships.
Paterson, 18, will graduate from Piper High School on May 14. She acknowledged that the hardest part about obtaining that score was trying to remain composed when the 10s kept flashing up.
"When you're shooting a lot of 10s you just have to stay focused and try to remain calm," she said.
One of the youngest National Team members in the history of USA Shooting when she made the team as a 16-year-old, Paterson talked about her love of the sport after Tuesday's award ceremony.
"As long as you put in the work, you see the results. There are no outside factors that can really hinder you from performing. As long as you are training and put in the hard work, eventually that's going to show. It might not be right away but eventually you're going to see those scores and train more and become better."
Finishing second to Paterson was local girl Carson Saabye (Larkspur, Colorado), who is another great youth shooting success story in the making. Just 13 years of age, Saabye is now a National Junior Team member and almost made the podium in Sport Pistol, finishing one point behind Paterson in fourth. Bronze medalist honors went to National Junior Team member Kellie Foster (Rockdale, Texas), who also claimed a silver medal during Sport Pistol competition Sunday.
Age-group distinction for J2 (15-17 years of age) included gold medalist and now Junior Olympic Squad member Keli Manegdeg (Colorado Springs, Colorado) along with silver medalist Yulong Jones (Germantown, Maryland) and bronze medalist Catherine Yim (Los Angeles, California). Jones was also the J2 gold medalist in Sport Pistol. The J3 (14 years and younger) podium included Katelyn Abeln (Douglasville, Georgia), Chantal Kelley (Newburyport, Massachusetts), and Elena Vona (Perrineville, New Jersey).
Brown (Twin Falls, Idaho) was so dominant during his two qualification rounds that not even missing the final due to college obligations could deter him from winning his second Junior Olympic title in three years. He outshot his opponents by 22 points in qualification.
Brown has been on quite a roll this month having earned two NRA Intercollegiate Pistol titles in Free and Air Pistol as well. He is the younger brother of National Team member Will Brown who will compete in upcoming World Cup event in Air and Free Pistol.
Finishing second behind Brown was National Junior Team member Justin Ahn (Diamond Bar, California), who scored a similar result as well in Sport Pistol Saturday. Another Colorado Springs product, Charles Platt earned the bronze medal and a spot on USA Shooting's Junior Olympic Squad.
Age-group distinction for J2 (15-17 years of age) included gold medalist Daniel Cheon (La Mirada, California), silver medalist Zack Hodnett (Tifton, Georgia) and bronze medalist Jack Leverett (Bainbridge, Georgia). Leverett adds to his medal collection which included being the overall gold medalist in Sport Pistol as a 15-year-old. The J3 (14 years and younger) podium included Cade Jenkins (Starkville, Mississippi), Nichol Dorscher (Harwood, North Dakota) and Dylan Markwardt (West Fargo, North Dakota).
Other highlights included National Junior Team member Irina Andrianova (Schaumburg, Illinois) safely defending her title in Sport Pistol while National Team member Glenn Zimmerman (Waterville, Ohio) picked up a bronze medal in that event as well.
For photos check out USA Shooting's Flickr site at www.flickr.com/usashooting
Men's Rifle Concludes NJOSC
The largest known contingent of competitors to ever compete at an NJOSC will take to the firing lines Friday for the start of Men's Air Rifle competition where 192 athletes will try and hit their mark. The Men's Rifle portion is the final discipline of the 2015 NJOSC and will feature three events including Air, Three-Position and Prone.
The race for Junior Olympic titles seems to be a wide-open race with no returning overall medalists returning, so keep an eye out for Colorado natives William Shaner and Will Anti. Competing at the 2015 U.S. Army Junior Air Rifle Championship last week, Shaner, 14, won the precision event followed by Anti. Anti, who is headed to West Virginia University next fall, made two of the three junior finals during the 2014 Winter Airgun Championships, winning gold on the final day while setting a national record in his age group. Other contenders could include National Junior Team members Lucas Kozeniesky (Southern Pines, North Carolina) and Michael Steinel (Lowell, Ohio).
Twelve-year-olds Seth Hartbarger (Hayden, Alabama) and Adam Votava (Colorado Springs, Colorado) represent the youngest competitors in the large field.
Men's Rifle Schedule:
Friday, May 1 – Air Rifle Match 1
Saturday, May 2 – Air Rifle Match 2 + Finals
Sunday, May 3 – Smallbore 3P & Prone Qualification
Monday, May 4 – Smallbore 3P & Prone Qualification
Tuesday, May 5 – Smallbore 3P & Prone Qualification + Finals
Those not in attendance can view live targets throughout the competition through our YouTube channel: www.youtube.com/usashootingteam in the "Live Events" section. For schedules and a complete list of participants, click here: http://www.usashooting.org/7-events/njosc.
FOLLOW THE EVENT OR PARTICIPATE YOURSELF VIA USA SHOOTING'S SOCIAL MEDIA CHANNELS BY USING THE HASHTAG — #NJOSC15
About ELEY
ELEY is a Proud Sponsor of the USA Shooting Rifle and Pistol Teams: ELEY Limited, manufacturer of the world's most consistently accurate rimfire ammunition, has been the Official Sponsor and Official Supplier of .22 rimfire ammunition of the USA Shooting rifle and pistol teams since 2000.
For more information on ELEY and their products, please visit www.eley.co.uk.
About USA Shooting
USA Shooting, a 501c3 non-profit corporation, was chartered by the United States Olympic Committee as the National Governing Body for the sport of shooting in April 1995. USA Shooting's mission is to prepare American athletes to win Olympic medals, promote the shooting sports throughout the U.S. and govern the conduct of international shooting in the country.
Check us out on the web at usashooting.org and on Twitter at twitter.com/USAShooting.