Duggan will transition to provide consulting support for the organization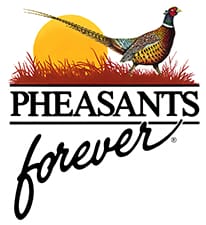 St. Paul, MN -(Ammoland.com)- If Pheasants Forever had a Hall of Fame, Joe Duggan would surely be in it.
A significant figure in the organization's 33-year history, Duggan progressed from chapter volunteer, public affairs officer, regional representative, director of development, vice president of development & public affairs, to his current position as vice president of corporate relations. Now, after 30 years with Pheasants Forever, Duggan will be transitioning to a consultant role.
Duggan has an impressive track record with Pheasants Forever working in numerous capacities. Chief among his accomplishments are those in conservation policy – he's been involved in three successful amendments to Minnesota's Constitution.
The first in 1998 gave constitutional protection to hunting, fishing, and trapping in Minnesota and kicks off the list of Duggan's career highlights.
Career Highlights
Played a key role in three state constitutional amendments to help preserve Minnesota's outdoor heritage: 1) The 1998 Right to Hunt and Fish Amendment, which has since led to similar efforts in 17 other states; 2) the 1998 Reauthorization of Minnesota's Environmental Trust Fund Amendment; and 3) the establishment of "dedicated funding" through the passage of the 2008 Clean Water, Land and Legacy Amendment.
Advocated at state and federal levels for funding and programs supporting wildlife habitat and conservation.
Co-founded the Minnesota Outdoor Heritage Alliance (MOHA), one of the first state-based legislative caucuses in the nation modeled after the Congressional Sportsmen's Caucus.
Developed Pheasants Forever's Build a Wildlife Area in 2003, which has generated 35 new public wildlife areas (WMAs and WPAs) covering 11,100 acres now open to public hunting. Included in this total is the recently dedicated Minnesota Veterans State Wildlife Area honoring Minnesota's veterans—a 604-acre property in Stearns and Wright counties that was also Duggan's idea.
Architect of National Pheasant Fest & Quail Classic, which is Pheasants Forever's annual signature event highlighting habitat, hunting, and bird dogs. He also came up with the Bird Dog Parade, which kicks off the event every year.
Developed Pheasants Forever's internal Land Loan Fund, which has been used in the acquisition and purchase of thousands of acres of wildlife habitat across the country.
Developed and initiated legislative and Governor's office support for the proposal to trade 2,800 acres owned by the University of Minnesota (U of M) near the Twin Cities to become the Vermillion Highlands Research, Recreation, and Wildlife Management Area in exchange for legislative support of a bonding bill for the new U of M football stadium (TCF Bank Stadium) – Read story.
Generated millions of dollars for Pheasants Forever's habitat mission by working with numerous corporate partners ranging from national corporations to local businesses. Those partnerships have included donations, advertising, licensing, royalty, and sponsorship programs.
Directed and held numerous of fundraising events of various sizes over the years.
Collaborated with numerous federal, state, and local fish & wildlife departments and natural resource agencies in the U.S. and Canada, as well as with other conservation groups, for projects and programs benefitting wildlife habitat on public and private lands.
Championed the acquisition of land to permanently protect critical wildlife habitat and create public access throughout his entire career.
Recognized by multiple Minnesota Governors on numerous occasions with Certificates of Recognition for efforts on behalf of wildlife, habitat, and water.
Recognized by Region 6 of the U.S. Fish & Wildlife Service for his efforts on behalf of the Partners for Fish & Wildlife Program.
Received the 1999 Man of the Year Award presented by Outdoor News (was the publication's first recipient).
Received the 2001 Conservationist of the Year Award presented by Minnesota Conservation Federation.
Received the 2013 Silver Eagle Award presented by the U.S. Fish & Wildlife Service – Read story.
"Obviously, the list of achievements is long when you start recapping Joe's career. He has been a champion for wildlife habitat conservation. We're extremely proud that he spent that entire 30-year conservation career under the Pheasants Forever banner," explained Howard Vincent, Pheasants Forever and Quail Forever's President & CEO.
Having also spent 20 years traveling to Alaska each spring and summer to commercial fish, Duggan looks forward to spending more time on a boat thanks to his transition.
For more information, please contact Jared Wiklund at (651) 209-4953 / email.
About Pheasants Forever
Pheasants Forever, including its quail conservation division, Quail Forever, is the nation's largest nonprofit organization dedicated to upland habitat conservation. Pheasants Forever and Quail Forever have more than 140,000 members and 700 local chapters across the United States and Canada. Chapters are empowered to determine how 100 percent of their locally raised conservation funds are spent; the only national conservation organization that operates through this truly grassroots structure.
For more information, visit www.pheasantsforever.org.