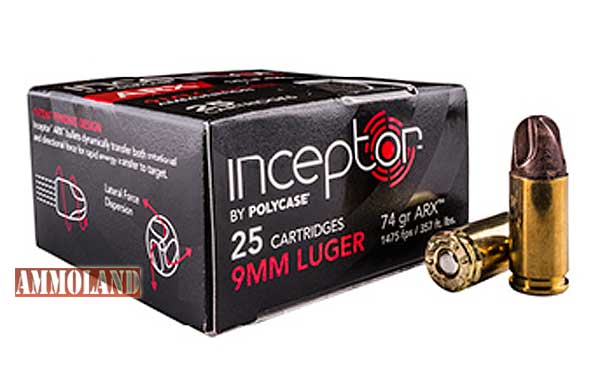 SAVANNAH, Ga – PolyCase Ammunition, LLC, a developer and manufacturer of state-of-the-art ammunition, announced today the company's revolutionary Inceptor ARX self-defense ammunition has been launched at Cabela's.
Cabela's, The World's Foremost Outfitter, is the largest direct marketer of hunting, fishing, camping, and related outdoor merchandise.
Founded in 1961, Cabela's has become one of the most well-known outdoor recreation brands, with 67 superstores throughout North America.
"Cabela's is the premium retail destination for American sportsmen and outdoorsmen," said Paul Lemke, CEO of PolyCase.

"PolyCase's partnership with Cabela's represents our first foray into the large footprint retail market and we could not be more excited. The Inceptor ARX is the newest premium self-defense ammunition and fits perfectly into Cabela's shooting and hunting market segment."
About PolyCase Ammunition
PolyCase Ammunition develops, manufactures, markets, and sells world-class, patent-pending, small arms ammunition and projectiles used by discerning professionals and sport shooters. Made in the USA, using over ninety years of advanced design, materials and manufacturing experience; our twenty-first century products are designed to provide the performance and consistency expected by our customers.
The PolyCase Ammunition team consists of experts in chemical, mechanical, advanced materials and industrial engineering, ammunition research, development, testing and evaluation, precision manufacturing, marketing, and U.S. domestic and international sales. We have proudly partnered with other industry leaders to provide our deserving customers with ammunition manufactured using only the most effective components.
For more information: www.polycaseammo.com