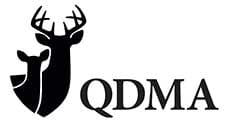 Bogart, GA -(Ammoland.com)- The Quality Deer Management Association (QDMA) is pleased to announce the recipients of its 2015 Conservation and Branch Achievement awards.
The honorees were first unveiled at the 2015 QDMA National Convention in Louisville, Kentucky, May 8-9. Each year, QDMA accepts nominations for its Conservation awards, and it honors a number of people and groups for achievements in whitetail conservation and management.
This year's winners are:
2015 QDMA Conservation Awards:
Joe Hamilton Lifetime Achievement Award: Dr. Gary Alt of Pennsylvania
Al Brothers Deer Manager of the Year: Roland Dugas III of Louisiana
Al Brothers Professional Deer Manager of the Year: Tony Vidrine of Louisiana
Agency of the Year: Florida Fish and Wildlife Conservation Commission
Wildlife Officer of the Year: Scott Herndon of Kentucky
Signpost Communicator of the Year: Will Brantley of Field & Stream
Rack Pack Four-Point Award: Katelyn Sette of West Virginia
The Branch Achievement awards recognize outstanding volunteers who have achieved success at a very high level. This year's winners are:
2015 QDMA Branch Achievement Awards:
Branch of the Year: Bayou Branch of Louisiana
Branch President of the Year: Jeff Eames of the First New Hampshire Branch
Volunteer of the Year: Joe Shreves of the Derby City Branch in Kentucky
Volunteer Appreciation Award: Snooky McCullar of South Carolina
Event of the Year: The Kentucky Military Youth Hunt (Derby City, Owensboro, Kentucky Heartland, Barren River Branches)
Membership Branch of the Year: Lowcountry Branch of South Carolina
Sponsor Membership Branch of the Year: Lowcountry Branch of South Carolina
New Branch of the Year: Farm Country Whitetails Branch of Minnesota
To view photos and learn more about each of the award winners, click here.
About QDMA
Founded in 1988, QDMA is a national nonprofit wildlife conservation organization dedicated to ensuring the future of white-tailed deer, wildlife habitat and our hunting heritage. To learn more about QDMA and why it is the future of deer hunting, call 800-209-3337 or visit www.QDMA.com.
QDMA can also be found on: Facebook, Twitter, Pinterest and Instagram.