Volunteers focus on habitat conservation efforts in Roosevelt, Curry, and Quay Counties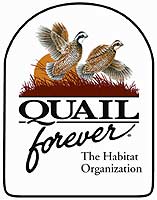 Portales, NM -(Ammoland.com)- Quail hunters and natural resource professionals in eastern New Mexico have established the first-ever chapter of Quail Forever in the state – the Blackwater Draw Chapter of Quail Forever – bringing the organization's unique model of wildlife habitat conservation to the Land of Enchantment.
Working side-by-side with resident landowners, chapter volunteers are eager to promote and enhance wildlife habitat for desert quail and other species while providing educational opportunities for area youth.
"I'm excited to be a part of the first Quail Forever chapter in New Mexico," stated Jake Swafford, secretary for the Blackwater Draw Chapter of Quail Forever and the organization's Farm Bill wildlife biologist based in Portales. "This chapter can act as another tool for conservation in eastern New Mexico focusing on unique, locally-driven, conservation issues. I hope to find our own niche and work on something that nobody else is doing in our area."
New Mexico is one of only four states that has the distinction of offering four species of quail to hunters and birdwatchers. These species – including northern bobwhite, Gambel's, Montezuma, and scaled quail – are among the most abundant non-migratory bird species in New Mexico. Utilizing the organization's signature fundraising model – chapters empowered with 100 percent control over their fundraising dollars – the Blackwater Draw Chapter of Quail Forever hopes to conserve and grow these resources for future generations.
"Establishing the first chapter of Quail Forever in New Mexico means a brighter future for quail and other wildlife," commented Bob Hix, Quail Forever's regional representative for New Mexico. "The Blackwater Draw Chapter of Quail Forever is an interesting mix of conservation professionals, university students, and local residents who all share a passion for conservation. The Blackwater Draw chapter is a major accomplishment for our organization and will be an incredible resource for local communities near Portales."
Blackwater Draw Chapter of Quail Forever
The Blackwater Draw Chapter of Quail Forever has elected Amy Erickson of Portales as president, Casey Berner of Portales as treasurer, Ross Greathouse of Portales as vice president, and Jake Swafford of Portales as secretary.
For more information about the chapter or to become involved, please contact chapter president, Amy Erickson, at (620) 432-1050 / email.
The chapter will hold its next meeting on Thursday, June 11, at 6:30 p.m. at Eastern New Mexico University's science building in room 210 (1500 South Avenue K – Portales, NM 88130). Hunters and conservationists interested in joining the chapter as a volunteer are encouraged to attend.
Quail Forever is the quail division of Pheasants Forever. New Mexico is now home to one Quail Forever chapter, and over 100 members of "The Habitat Organization."
For more information about Quail Forever or to inquire about starting a chapter, contact Bob Hix, regional representative for Quail Forever in New Mexico at (303) 743-8957 / email.
About Quail Forever
Pheasants Forever, including its quail conservation division, Quail Forever, is the nation's largest nonprofit organization dedicated to upland habitat conservation. Pheasants Forever and Quail Forever have more than 140,000 members and 700 local chapters across the United States and Canada. Chapters are empowered to determine how 100 percent of their locally raised conservation funds are spent; the only national conservation organization that operates through this truly grassroots structure. Since creation in 1982, Pheasants Forever has spent $508 million on 475,000 habitat projects benefiting over 10 million acres nationwide.
For more information, visit www.quailforever.org.