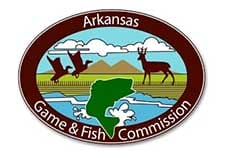 Arkansas -(Ammoland.com)- A multi-partner project to restore quail at Pea Ridge National Military Park is developing additional benefits. It is recycling on land and in the water.
Cedar trees removed at the park are going into Beaver Lake as fish habitat structures, With the U.S. Army Corps of Engineers joining the Arkansas Game and Fish Commission, National Park Service and National Bobwhite Conservation Initiative in the work. It started when the park launched an intensive campaign to restore the battlefield to look like it did in 1862 when the biggest battle of the Civil War was fought. Historical photos and soldier accounts indicate that much of the battlefield was substantially more open.
Much has changed on the landscape in a century and half. One item was the occasional cedar trees of long ago becoming prevalent today due to the removal of fire from the landscape.
Heavy cedar growth is not good for quail either, their encroachment creates a closed canopy and crowds out the native herbaceous plants that quail thrive in, so thousands of cedars have been cut by machine and by hand at the battlefield. A few of the trees are being made into split rail fencing, but most have to be burned or composted. Prescribed fire also is being used to restore and maintain the appearance. A third option is to move the cedars to nearby Beaver Lake, weight them and sink them for fish habitat.
For many years, Beaver Lake has benefited from discarded Christmas trees being put into the lake. Crappie especially have responded well. But spruce and fir trees only last a few years underwater. Cedars last a long time. "These cedars will be around for years and years," said Jon Stein, a fisheries biologist with the AGFC.
Cedar trees make good hiding places for young fish after they hatch, Stein said. Game fish like crappie, black bass and catfish hang around the cover to pick off the young fish.
Beaver Lake is a Corps of Engineers impoundment on the White River, and at 50 years old, it has lost much of its underwater timber.
The cedars cut on the battlefield are hauled to the lake's shores, mostly in the northern and central areas, tied into bundles, weighted with concrete blocks then pulled by a work boat to a specified spot and dumped into the water.
Removal of the cedars will help reduce underbrush and make it closer to the way it was on March 7-8, 1862, when thousands of Union and Confederate troops battled fiercely. More open forest with edges is good for wildlife, especially quail, said Nolan Moore, the park's biologist.
The quail restoration project covers about 2,900 acres of the 4,300-acre park. Expanding the restoration to nearby private land is in the plans also, said Mark Hutchings, an AGFC wildlife biologist.