By Rob Leatham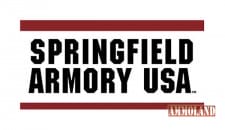 (Ammoland.com) To me, the 1911 is the best handgun design of all time.

The new Springfield Armory MC 1911 Operator is the epitome of a multi-use, heavy duty 1911 pistol. It has all the features you need and is improved with a trick set of G10 grips and our new OCTO-GRIP scalloping pattern on the front strap.
Equipped with our loaded package of high visibility self illuminated night sights, ambidextrous thumb safety, speed trigger, hammer and beaver tail style grip safety, it may be the perfect tactical .45 ACP pistol.
What is the MC Operator?
It's the frame
The Operator designation means the frame is manufactured with an integral accessory rail that accepts the easy mounting of lights and lasers allowing the user to achieve greater accuracy and performance from the pistol in low or no light conditions.
With the addition of a co-axial illumination / aiming device, the shooter will more easily and precisely see where the pistol is aimed. When not being utilized, the rail is unobtrusive and the pistol functions the same as a non-railed model.
There's really no downside.
Many shooters, myself included, like the purposeful look of the frame. Compared to a standard configuration, I prefer the slight increase in weight and more forward balance of the Operator frame. The subtle forward weight distribution helps soften the recoil of full power .45ACP ammunition, something any high round count shooter will appreciate from his main gun.
Many of my personal 1911's are built with this frame.
It's the feel
The front strap is serrated with our new OCTO-GRIP pattern. Offering increased slippage resistance without creating an overly abrasive surface. What that means is your MC Operator will stay planted in your hands while shooting without tearing up your skin. It also doesn't snag on clothing when carried close to your body.
The new G10 grips while very stylish and aggressive looking have a grooved surface that aids in keeping the gun positioned properly in your hands. Those along with the OCTO-GRIP serrations make for a very controllable yet comfortable combination for long days at the training range, or those 3 seconds in life when it might really matter.
It's the parts
Let's look at the big parts of a 1911 MC Operator.
The slide, frame and barrel are top quality and hand assembled in our factory, located in the hotbed of gun building in the United States, Geneseo, Illinois. Those three key parts and how they fit together is the culprit behind the accuracy of your MC Operator.
It's the accuracy factor
What makes the 1911 MC Operator accurate? For that matter, what makes any 1911 accurate?
It shouldn't be a secret after all these years. Precise fitting of a good frame, slide and barrel. A fit that allows repeatable lockup yet still moves freely enough to function reliably in the worst conditions.
It's the little things
Those things you don't see buried deep in your 1911 are an important part of the whole fit. Part of the perfection.
Just as important to reliability are the triggers, safeties, hammers, extractors and ejectors. Like the slide, barrel and frame, we have massaged the design of the little parts so they last and last and last.
That mating of parts is a wonderful thing when it's done just right; loose enough for movement and tight enough for accuracy.
It's really about tolerances. Maybe holding very small tolerances during manufacturing is a better way to describe what is needed. A simple process but hard to do perfectly.
Like shooting fast and accurately, easier said than done. Not everyone can build to those tolerances, or even knows what they should be.
When you look our MC Operator over you'll see we do.
It's the durability
Your MC Operator will last for many, many years and tens of thousands of rounds if cared for properly.
If a design is well engineered and good materials are used in the manufacture of those parts, along with proper assembly, you ought to get a long life out of any piece of equipment.
The MC Operator is the latest in a never ending quest to build the perfect 1911.
In the interest of being completely truthful, I have to confess something; 
When it comes to building great 1911 pistols, Springfield Armory has an unfair advantage. We have the Springfield Custom shop. From within the factory walls and over several decades, Springfield Custom™ shop has built thousands of high-end 1911s for customers all over the world.
This experience in building the best possible 1911 sets Springfield Armory apart from other manufacturers. We can take what we learn from the Springfield Custom shop and make our production guns just a little bit better. Like I said, unfair advantage but that advantage results in a better product for all of our customers.
When it comes to 1911's, no one builds a better performing pistol than Springfield and the proof of that is our MC Operator. From competition to tactical duty, to home defense, the MC 1911 Operator has all the features needed to be a hard working multi-use pistol.
More from Springfield Armory: