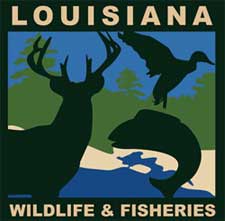 Louisiana -(Ammoland.com)- Search and rescue crews found the body of a River Ridge man around 1:30 p.m. today, May 9 following a single boat incident in Rattlesnake Bayou in Plaqumines Parish.
Search crews from the Louisiana Department of Wildlife and Fisheries and the Plaquemines Parish Sheriff's Office recovered the body of Gary Folks, 61, near where he entered the water after getting ejected from his vessel.
The boating incident occurred around 9 a.m. in Rattlesnake Bayou about 12 miles south of Happy Jack.  According to the surviving passenger the two men were cruising in Rattlesnake Bayou when Folks lost steering control and the boat took a violent turn ejecting both men into the water.  The passenger was able to get away from the unmanned circling boat and make it to shore.  He never saw what happened to Folks.
The passenger was able to make it to shore where he flagged down a passing boater and then called for help around9:20 a.m..  The search crews were able to recover the boat that eventually grounded itself into the bank of the bayou.
LDWF will be the lead investigative agency for this boating incident.  Neither man was wearing a personal flotation device when they were ejected into the water.  Folks' body was turned over to the Plaquemines Parish Coroner's Office to determine the official cause of death.