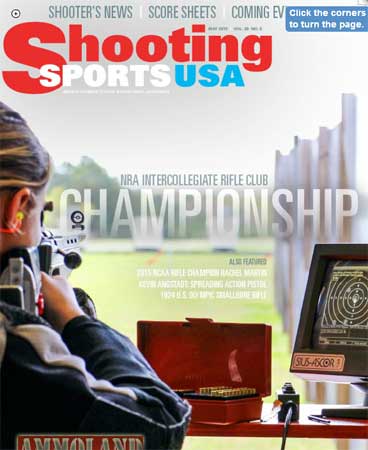 FAIRFAX, Va. –-(Ammoland.com)- Dear Shooting Sports USA digital subscriber,
Here's the link to your Monthly Subscription to Shooting Sports USA NRA's Online Competitive Shooting Journal
If you have trouble with the link above, paste –
https://www.nxtbook.com/fx/mags/lastissue.php?mp=/nxtbooks/nra/shootingsportsusa into your browser to view this issue.
Features included in this month's issue are:
Full coverage of the 2015 NRA Intercollegiate Rifle Club Championship
2015 NCAA Smallbore Rifle Champion Rachel Martin
Kevin Angstadt-Spreading NRA Action Pistol
1924's U.S. Olympic Smallbore Rifle by Paul Norquist
Also included are Barbara Baird's Bag Check series, this time she's taking a look in the range bag of 2014 ISSF World Skeet Champion Brandy Drozd, Jock Elliott's review of Shoot to Win by Chris Cheng, and an article featuring Coach Karen Nowicki from our friends at USA Shooting.
We hope you enjoy this month's issue and thank you for your support of the shooting sports.
Be sure to tell your family and friends to sign up for their FREE Shooting Sports USA digital edition at https://www.nrapublications.org/ssusa/
NRA CompShooting Sports USA – May 2015etitive Shooting Journal
Thank you,
NRA Publications
National Rifle Association – 11250 Waples Mill Road – Fairfax, VA 22030-9400