By Mike Searson
The Sig Sauer P220 Pistol – Gun Review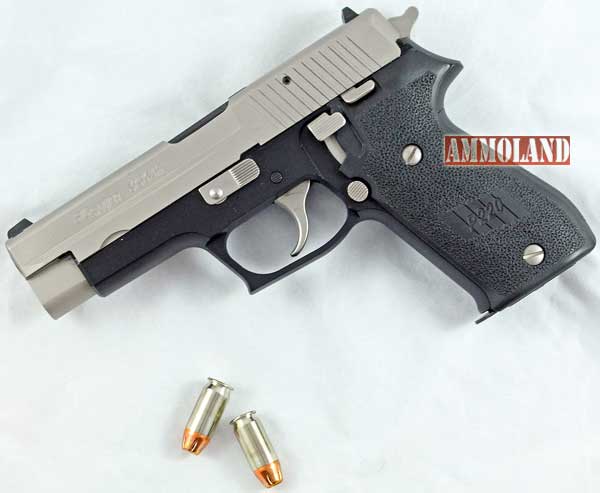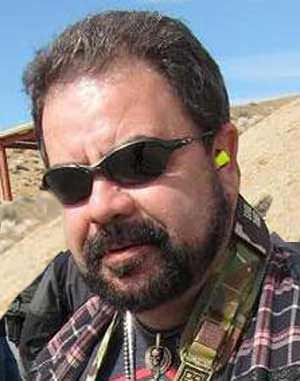 USA – -(Ammoland.com)- Sig Sauer's first pistol design was the now legendary P210, a single stack 9mm pistol that served the Swiss Army for years but was at a price point many times higher than its contemporaries.
In order to compete in the marketplace for a quality duty sidearm in 1975 SIG redesigned the pistol and came out with the Sig Sauer P220 Pistol.
Forty years later, the Sig Sauer P220 Pistol still sets the standard by which other pistols chambered in 45 ACP are judged.
Superficially the P220 looks much like a typical Browning designed semiautomatic pistol. Operation is via a link less barrel, but without the locking lugs. Rather, the Sig Sauer P220 Pistol relies upon an enlarged breech block to keep the slide and barrel together during the firing sequence.
Sig Sauer P220 Pistol
The P220 is typically configured as a double action / single action pistol and makes use of a de-cocker to lower the hammer for safe carry and uses no external safeties. For law enforcement and military officers who are concerned about accidentally holstering a pistol with a cocked hammer there is a double action only version sold by SIG known as the DAK variant (Double Action Kellerman).
Other versions of the P220 include the P220R which incorporates an accessory rail on the dust cover in order to attach lights and lasers.
Our test pistol is an older Two-tone version with an electro-less nickel slide and controls (hammer, de-cocking lever, slide stop, take down lever and trigger) and black frame accented by silver colored grip screws.
Sig Sauer P220 Pistol The Good
The pistol fits the author's hand extremely well and imparts a feeling of confidence and stability. It feels slightly larger than a Colt 1911 and not quite as large as a Browning Hi-Power or Beretta 92 pistol.
Sig's de-cocking lever makes this an extremely safe pistol to carry. There is no worry for a new shooter about carrying a cocked and locked 45 with a relatively light single action trigger.
As far as accuracy goes, the P220 is more accurate than 90% of the shooters who point one down range.
Sig Sauer P220 Pistol The Bad
Perhaps the major drawback to the Sig P220 is that the pistol is large and heavy and best suited for home defense or open carry in a duty holster. With the right holster and clothing it could work for concealed carry, but there are infinitely better options than a full sized all steel pistol for this role.
The first round with a double action pull that is heavier than the subsequent single action pulls can take some getting used to for users of the Glock or even 1911 where each squeeze of the trigger is consistent. Some agencies and individual shooters have addressed this by going the DAK route, but this is still considered to be too heavy for some shooters to be consistently accurate and is really a holdover from the days of transition from revolvers to semiautomatic pistols.
A common complaint about most pistols from Sig's classic "P-series" is the relatively high bore axis. Typically this is a training or "failure to adapt issue". Oftentimes a shooter new to the Sig Sauer P220 Pistol wil find it shoots too high or recoil feels different from what they are used to. Fortunately this is a problem that goes away the longer the shooter is behind the trigger of the firearm in question.
Sig Sauer P220 Pistol The Reality
Sig's P220 is simply a handgun that "wants to be shot". The 45 ACP round leaves a nice crisp hole in the target that is easy to see at long distance and felt recoil is noticeably mild when compared to other pistols chambered in 45 ACP.
We consistently shoot "one-hole groups" at 25 and 50 feet respectively and consider the P220 to be one of the best duty pistols ever made.
The pistol is ideal for home defense, IDPA competition, open carry and as a general use outdoor pistol if not for concealed carry. The one drawback here is the single stack magazine and its low capacity, but that can be a benefit to shooters who live in states that impose unconstitutional linits on standard capacity magazines. [screw you NJ state]
Pricing on a new Sig Sauer P220 Pistol may seem high, but that is the price of quality. As Sig is constantly improving their product line, used models often show up at a discount as well as law enforcement trade in models.
Some shooters are hesitant to pick up a preowned handgun, but Sig has a successful program, the SIG Service Package, that is perfect in this regard. They take the pistol, professionally clean it, replace the springs and other small parts and even install a set of night sights for a little over $100. Other modifications and improvements can be made at the factory for additional costs, too. Contact the SIG SAUER Customer Service Dept. for further information and shipping instructions: Phone: (603) 418-8102
---
For 2015 Sig has released three Sig Sauer P220 Pistol models in the powerful 10mm cartridge which should make an interesting pistol for hog hunting.
Check out this great video review below by Jeff Quinn at GunBlast.com.
---
About Mike Searson
Mike Searson's career as a shooter began as a Marine Rifleman at age 17. He has worked in the firearms industry his entire adult life as a Gunsmith, Ballistician, Consultant, Salesman, Author and was first certified to teach firearms safety in 1989.
Mike has written over 2000 articles for a number of magazines, websites and newsletters including Blade, RECOIL, OFF-GRID, Tactical Officer, SWAT, Tactical World, Gun Digest, Examiner.com and the US Concealed Carry Association as well as AmmoLand Shooting Sports News.
---
Sig Sauer P220 Pistol Owner Manual Follows: