Chapter looks to improve public, private lands in Hamilton, Sequatchie, Marion, Rhea & Bradley Counties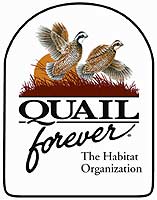 Chattanooga, TN -(Ammoland.com)- Longtime quail hunters in Tennessee are striving to conserve and promote wildlife habitat for bobwhite quail and other species with the formation of the Tri-State Chapter of Quail Forever.
Chapter volunteers have an overarching goal to provide future generations the opportunity to hunt bobwhite quail in the Volunteer State, while also focusing on habitat improvements in northwest Georgia and northeast Alabama.
"Quail Forever's unique model of locally-driven habitat efforts was the ultimate factor for the creation of our chapter," stated Tony Sanders, treasurer for the Tri-State Chapter of Quail Forever. "The quail hunting tradition is strong in our state and with the support of our local communities, I believe this group can make a positive difference for the future of those traditions in southeast Tennessee."
A group of passionate outdoorsmen, the Tri-State Chapter of Quail Forever hopes to educate the community on habitat concerns for bobwhite quail and involve them in the chapter's habitat improvement efforts. The committee hopes to partner with the Tennessee Wildlife Resources Agency to improve public lands, as well as give back to the community through youth quail hunts, dog trial competitions, Wounded Warrior Project hunts, and various other community engagements.
"The flexibility of the Quail Forever model can make these chapter goals a reality, and we're excited for the challenge," added Sanders.
Formation of the Tri-State Chapter of Quail Forever comes at a crucial time for quail conservation efforts in Tennessee, and follows the recent release of the Tennessee Northern Bobwhite Quail Restoration Plan. Likewise, the growth of Quail Forever is matching the mounting concern for bobwhite quail numbers in the state. Tennessee now has 11 Quail Forever chapters accounting for 1,108 members statewide. Those chapters have spent over $100,000 to complete 341 habitat projects since the first Tennessee chapter formed in 2007, improving nearly 2,000 acres for wildlife.
"Committee members who have formed the Tri-State Chapter of Quail Forever have years of experience volunteering for wildlife conservation organizations," said Andy Edwards, Quail Forever's regional representative in Tennessee. "This will help to create another very successful chapter of Quail Forever in Tennessee. It is an exciting time for quail in Tennessee with 'Volunteers' rising to the occasion to bring back bobwhites."
Tri-State Chapter of Quail Forever
The Tri-State Chapter of Quail Forever has elected Don Oscai of Hixson as president, Tony Sanders of Soddy Daisy as treasurer, and Keith Watson of Sale Creek as vice president.
The chapter will host an annual fundraising banquet on Saturday, September 19, at the Highland Sportsman Club in Hixson – doors will open at 5 p.m. For more information regarding Quail Forever in the state or to start a local chapter, contact Andy Edwards, regional representative in Tennessee at (931) 638-9478 / email.
For more information about the chapter or to become involved, please contact chapter treasurer, Tony Sanders, at (423) 567-4801 / email.
About Pheasants Forever and Quail Forever
Pheasants Forever, including its quail conservation division, Quail Forever, is the nation's largest nonprofit organization dedicated to upland habitat conservation. Pheasants Forever and Quail Forever have more than 140,000 members and 700 local chapters across the United States and Canada. Chapters are empowered to determine how 100 percent of their locally raised conservation funds are spent, the only national conservation organization that operates through this truly grassroots structure. Since creation in 1982, Pheasants Forever has spent $577 million on 489,000 habitat projects benefiting 12 million acres nationwide.
For more information, visit: https://quailforever.org.